Milan Records to Release 'Spell' Soundtrack
OCTOBER 21, 2019 | Submitted by Sony Music Masterworks / Soundtrack.Net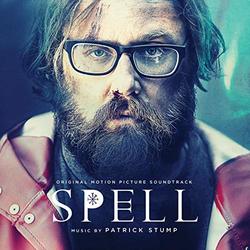 Milan Records, an imprint of Sony Music Masterworks, announces the November 1 release of Spell (Original Motion Picture Soundtrack with music by chart-topping singer, songwriter, musician and member of Fall Out Boy Patrick Stump. Available for preorder now, soundtrack features music from Crush Pictures' award-winning, darkly comedic psych-thriller, with Stump's original compositions capturing the emotionally driven narrative. Also premiering today is the soundtrack's lead offering "Deep Blue Love," a soulful, blues-tinged ballad performed by Stump and recorded exclusively for the project – listen here. Spell made its prize-winning debut at last year's LA Film Festival and will premiere in theaters Friday, November 1 and on VOD and DVD beginning Tuesday, November 19.
"Brendan gave me a real chance as a composer," says Patrick Stump of working with director Brendan Walter on the soundtrack to Spell. "I was allowed to explore elements of my writing that I could never have without the narrative of the film."
"As fans of Milan's catalogue, as well as their commitment to artists and black magic, we're super excited to partner on this release for Spell," adds Crush Pictures' Jon Lullo. "It's a perfect home for Patrick's unique score which helped create the magical Icelandic world depicted in the film."
Following the unexpected death of his fiancée, an American illustrator embarks on a soul-searching journey across the isolated Icelandic countryside, only to become drawn into a supernatural world of ancient runes and secrets - unless it's all in his head. Produced by Crush Pictures and directed by Brendan Walter, Spell stars Barak Hardley, Jackie Tohn, Magnús Jónsson and Birna Rún Eiríksdóttir.
Newsletter
Enter your e-mail address to receive weekly soundtrack and film score news: