Sony Music Announces 'Countdown' Soundtrack
OCTOBER 25, 2019 | Submitted by Sony Music Masterworks / Soundtrack.Net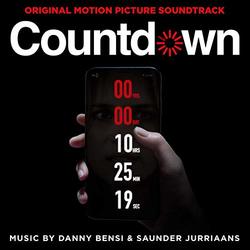 Sony Music today releases Countdown (Original Motion Picture Soundtrack) with music by Danny Bensi & Saunder Jurriaans. Available everywhere now, the album features music from the horror film, which makes its theatrical debut today via STX Entertainment.
Of the soundtrack, composers Danny Bensi & Saunder Jurriaans say, "We had a great time scoring Countdown full of moody analog synths, atonal string orchestras and piercing jump scares. We tried to stay true to a traditional horror score but added some of our own unique twists and unpredictability!"
When a nurse downloads an app that claims to predict the moment a person will die, it tells her she only has three days to live. With the clock ticking and a figure haunting her, she must find a way to save her life before time runs out.
Newsletter
Enter your e-mail address to receive weekly soundtrack and film score news: