'A Beautiful Day in the Neighborhood' Soundtrack Released
NOVEMBER 15, 2019 | Submitted by Sony Music Masterworks / Soundtrack.Net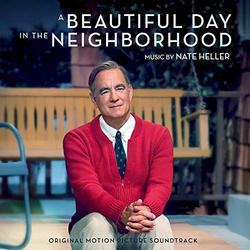 Sony Music today releases A Beautiful Day in the Neighborhood (Original Motion Picture Soundtrack) with music by Nate Heller (The Diary of a Teenage Girl, Can You Ever Forgive Me?). Available everywhere now, the album includes music composed by Heller for TriStar Pictures' A Beautiful Day in the Neighborhood out in in theaters on Friday, November 22. Also included in the 20-track collection are both newly-recorded and previously-released feature tracks from Tom Hanks, Nick Drake, Chris Cooper, The Uptown String Quartet and Fred Rogers himself.
"I'm so excited for people to hear the music created for A Beautiful Day in the Neighborhood," says composer Nate Heller. "The score includes interpretations of the timeless Fred Rogers music from the original show, and expands out from jazz combo feel into a rich orchestral score. Piano, splashy drums, flute and cello lines punctuate the music, with layers of delicate strings on top. The score moves us from sentimental moments, through jagged nervous breakdowns. It's such a thrill to work with my sister Marielle Heller on our third feature together, and I couldn't be more proud of what we've accomplished."
Tom Hanks portrays Mister Rogers in A Beautiful Day in the Neighborhood, a timely story of kindness triumphing over cynicism, based on the true story of a real-life friendship between Fred Rogers and journalist Tom Junod. After a jaded magazine writer (Emmy-winner Matthew Rhys) is assigned a profile of Fred Rogers, he overcomes his skepticism, learning about kindness, love and forgiveness from America's most beloved neighbor.
Newsletter
Enter your e-mail address to receive weekly soundtrack and film score news: