Lakeshore Records Announces 'The Dragon Prince' Season 3 Soundtrack
NOVEMBER 21, 2019 | Submitted by White Bear PR / Soundtrack.Net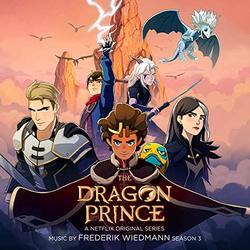 Lakeshore Records is pleased to announce the release of the Season 3 soundtrack to the Netflix Original Series The Dragon Prince composed by Frederik Wiedmann. The Dragon Prince is an original animated series produced by Wonderstorm for Netflix. The first two seasons were both critically acclaimed, and each received perfect scores of 100% on Rotten Tomatoes. Fans of every age have embraced the series for its deep world-building, dynamic and representative characters, as well as an engaging storyline full of magic, intense action, and unpredictable twists and turns. Lakeshore Records will release The Dragon Prince Season 3 – A Netflix Original Series Soundtrack digitally on November 22. The Dragon Prince Season 3 premieres on Netflix November 22nd.
The Dragon Prince Season 3 continues the stories of aspiring mage Callum, crown prince Ezran, the Moonshadow Elf assassin Rayla, and Zym – the infant sky dragon and titular "Dragon Prince." Having been split apart after the huge events of Season 2, the young heroes continue their separate journeys: Ezran returning to Katolis to assume the throne, and Callum and Rayla taking Zym deeper into the unknown wilds of Xadia. The Dragon Prince is co-created and led by the visionary team of Aaron Ehasz and Justin Richmond.
Aaron Ehasz and Justin Richmond were ecstatic about collaborating with Frederik Wiedmann for Season 3 praising, "Without question Freddie's epic and emotional score is what elevates the Dragon Prince storytelling into something that soars and swells our hearts."
For Season 3, in approaching how best to build upon the story arcs and emotional threads of the first two chapters of The Dragon Prince, Frederik Wiedmann said, "The third season of The Dragon Prince offered an amazing opportunity to work with all of our established themes for the characters from Seasons 1 & 2, to take them further, and also to expand them into new ideas as this incredible story continues to unfold. We pushed hard to really dig deep into all the emotional threads in Season 3, as well as amplify the imminent threat and impending darkness that our heroes face during their quest. Once again, we put our best foot forward and recorded a beautiful orchestra for some of the most pivotal scenes in this season to deliver the most emotional impact possible. We also feature again the amazingly unique solo instrumentalists that we introduced in the first two seasons. It was difficult for us to narrow down which tracks deserve to be on the soundtrack, so we decided to make the Season 3 soundtrack a full 1 hour and 40 minutes of music. We hope the fans will enjoy it!"
Newsletter
Enter your e-mail address to receive weekly soundtrack and film score news: