Music.Film Recordings to Release 'Seberg' Soundtrack
DECEMBER 11, 2019 | Submitted by White Bear PR / Soundtrack.Net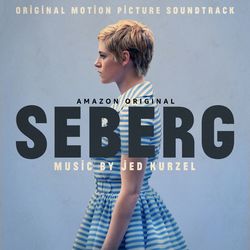 The Original Motion Picture Soundtrack for the anticipated biographical drama Seberg will be released digitally on December 13, 2019, exclusively from Music.Film Recordings. The 25-track album consists of captivating and breathtaking melodies by Australian composer Jed Kurzel.
Seberg is inspired by true events about the French New Wave icon and Breathless film star, Jean Seberg (Kristen Stewart), who in the late 1960s was targeted by the FBI, because of her support of the civil rights movement and romantic involvement with activist (and cousin of Malcolm X) Hakim Jamal (Anthony Mackie). In Benedict Andrews' political thriller, Seberg's life and career are destroyed by FBI Director J. Edgar Hoover's overreaching surveillance and harassment in an effort to suppress and discredit Seberg's activism. The Amazon Studios film received a standing ovation at the 2019 Venice Film Festival. Seberg hits US theaters on December 13.
"Jean Seberg's story is fascinating and multifaceted. The question was how do we capture it while maintaining the pulse of the narrative? Jean goes from someone who seemingly has the world at her feet to someone who is pushed to the brink and ultimately finds herself isolated and alone. Tracing this journey while also capturing the FBI's unrelenting obsession with her was the most challenging part of the musical process. There was also an underlying intimacy residing in the relationship between Jack and Jean which the music also hints at, a relationship through surveillance. On top of this, we were aware of grounding the film in a time and place, coloring it with subtle musical flavors from the period. We used a String Quintet with piano, horns, percussion, guitar and electronic elements. Benedict talked about a shimmering fragility in the playing, therefore we used a smaller section with the strings, being able to hear individual textures in the playing felt a little more personal and highlighted Jeans growing anxiety. We also talked about the strings having this fragile beauty being corrupted by something darker underneath so often the double bass pulses away underneath or electronic elements are there to unsettle things. The simple piano motifs are singular to Jean, sparse and private, but along with the horns give a subtle nod to the era and mood of the film." – Jed Kurzel, composer.
Newsletter
Enter your e-mail address to receive weekly soundtrack and film score news: