'Tales from the Loop' Soundtrack Released
APRIL 3, 2020 | Submitted by Disney Music / Soundtrack.Net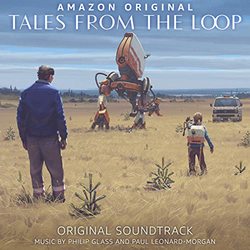 Fox Music/Hollywood Records today released the digital soundtrack from the Amazon Original series Tales from the Loop. The album features original themes by Philip Glass and score by Paul Leonard-Morgan. Tales from the Loop is now streaming exclusively on Amazon Prime Video in more than 200 countries and territories worldwide.
 
From executive producer Matt Reeves and based on the acclaimed art of Swedish artist Simon Stålenhag, Tales from the Loop explores the town and people who live above "The Loop," a machine built to unlock and explore the mysteries of the universe – making things possible that were previously relegated only to science fiction. In this fantastical mysterious town, poignant human tales are told that bare universal emotional experiences, while drawing on the intrigue of genre storytelling.
 
The series stars Rebecca Hall, Paul Schneider, Daniel Zolghadri, Duncan Joiner and Jonathan Pryce.
Leonard-Morgan said, "Collaborating with Philip Glass on Tales from the Loop was an incredible experience. Philip and I had a discussion with Nathaniel Halpern (showrunner) and Mark Romanek (executive producer) about their vision for the show, the incorporation of unusual instruments, and their shared desire of wanting the soundtrack to be an integral part of the show: 'Music which could be listened to by itself, melodies which could be hummed, a soundtrack which will stand the test of time apart from the series.' Philip went and scored a bunch of initial ideas, as did I, and we discussed where they all might work together. Both of us playing off each other's sounds and melodies to create a truly unique score. Over and again, we kept coming back to the original idea: to make beautiful music, which would work hand in hand with Nathaniel's brilliant visions and beautiful cinematography. The 8 episodes are so unique—they're like nothing we've ever seen, and hopefully the score stays true to this. Melodies come back throughout the show, each guiding us through the world of the loop. During recording sessions every 3 weeks, the natural sounds of the solo violin and the solo cello gave a beautiful, haunting sound to the loop, becoming an integral part of the sound."
 
Glass added, "I've always tried to collaborate with people from many disparate perspectives; everyone from indigenous musicians to electronic musicians have expanded my musical sensibilities. Working with Paul was no exception and the intersection of our two styles has produced a score both unexpected and familiar that accompanies the series beautifully."
Newsletter
Enter your e-mail address to receive weekly soundtrack and film score news: