'Little Fires Everywhere' Soundtrack Released
APRIL 17, 2020 | Submitted by Disney Music / Soundtrack.Net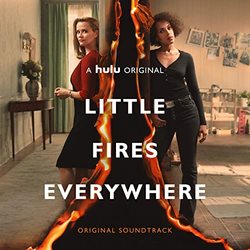 Hollywood Records today released the digital soundtrack from the Hulu Original series, Little Fires Everywhere. The album features original music by OscarŽand Emmy-nominated composer Mark Isham and songwriter/producer Isabella Summers, a member of Florence + The Machine. The soundtrack also includes 4 covers and one original song "Build It Up," written and performed by singer-songwriter Ingrid Michaelson.
Starring Reese Witherspoon and Kerry Washington, Little Fires Everywhere follows the intertwined fates of the picture-perfect Richardson family and an enigmatic mother and daughter who upend their lives. Based on Celeste Ng's 2017 bestseller, the story explores the weight of secrets, the nature of art and identity, the ferocious pull of motherhood – and the danger in believing that following the rules can avert disaster.
Isham has scored more than 125 films and collaborated with top directors including Robert Redford, Brian De Palma, Jodie Foster, Robert Altman and Sidney Lumet. Isham said, "This show was a wonderful opportunity to explore a very different approach to scoring than my regular one. A TRUE collaboration with a world-class songwriter and producer - Isabella Summers - yielded a lot of unexpected but fantastic results - truly producing a final product greater than the sum of its parts!! The song treatments evolved from the texture and sound of the score. To be able to shine a fresh light on these brilliant and iconic songs was such a rewarding experience."
Newsletter
Enter your e-mail address to receive weekly soundtrack and film score news: