Milan Records Announces 'White Lines' Soundtrack
MAY 14, 2020 | Submitted by Sony Masterworks / Soundtrack.Net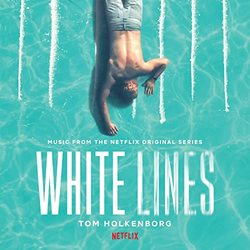 Milan Records announces the release of White Lines (Music from the Netflix Original Series) with music by multi-platinum producer, musician, composer and educator Tom Holkenborg aka Junkie XL. Available Friday, May 15, the album features music written by Holkenborg for Netflix's newest original series White Lines which follows a young woman navigating the island of Ibiza in the wake of her brother's mysterious death. Holkenborg was uniquely able to draw from his own experiences performing in Ibiza and clubs around the world during his live career as multi-platinum-selling producer, multi-instrumentalist and electronic music producer. With his lengthy scoring resume of hit titles including Mad Max: Fury Road, Alita: Battle Angel and Deadpool, Holkenborg provides the perfect sonic companion to the show's backdrop of Ibiza dance club culture. From Álex Pina, creator of the award-winning crime drama Money Heist, White Lines debuts on Netflix Friday, May 15.
Of the soundtrack, Tom Holkenborg says, "It was a delight to dive back into my electronic roots and revisit some amazing Ibiza memories when creating the score for White Lines. Though much of the music I made is not club focused, as they licensed a lot of original tracks from the late '90s and early 2000s, I think my work was able to capture some of the magic that makes club culture and the island so special. It was a really fun personal project to work on and I hope people love the series."
From the teams that brought you La Casa de Papel (Álex Pina) and The Crown (Left Bank Pictures) comes White Lines. When the body of a legendary Manchester DJ is discovered twenty years after his mysterious disappearance from Ibiza, his sister returns to the beautiful Spanish island to find out what happened. Her investigation will lead her through a thrilling world of dance music, super yachts, lies and cover-ups, forcing her to confront the darker sides of her own character in a place where people live life on the edge. White Lines is written by Álex Pina. The series is executive produced by Andy Harries and Sharon Hughff at Left Bank Pictures and Álex Pina and Cristina López Ferraz at Vancouver Media, and is produced by Chris Croucher. White Lines premieres on Netflix globally on May 15, 2020.
Newsletter
Enter your e-mail address to receive weekly soundtrack and film score news: