'Spaceship Earth' Soundtrack Released
MAY 22, 2020 | Submitted by Sony Masterworks / Soundtrack.Net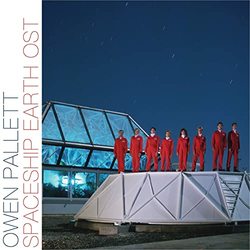 Milan Records announces today's release of Spaceship Earth (Original Motion Picture Soundtrack) with music by composer, violinist, keyboardist and vocalist Owen Pallett. Available everywhere now, the album features music written by Pallett for director Matt Wolf's documentary film following a 1991 experiment in self-quarantine. Known for both their critically acclaimed solo recordings as well as collaborations alongside artists like Arcade Fire, Frank Ocean, The National and more, Pallett now adds Spaceship Earth to a growing resume of score work that includes their Academy Award-nominated score for Spike Jonze's Her and their Emmy Award-winning compositions for Fourteen Actors Acting. NEON launched Spaceship Earth everywhere on May 8.
Of the soundtrack, composer Owen Pallett. says, "This is my second collaboration with Matt Wolf, after 2019's Recorder: The Marion Stokes Project. The film Spaceship Earth chronologically spans from 1960 to present day— it is serious, it is comedic, it is retro, it is futuristic, it is scientific and it is highly human. It is also distinctly American. As a result, I was inspired by 60s sci-fi film scores, Nino Rota, as well as American 20th century music— John Adams and Aaron Copland."
Spaceship Earth is the true, stranger-than-fiction, adventure of eight visionaries who in 1991 spent two years quarantined inside of a self-engineered replica of Earth's ecosystem called Biosphere 2. The experiment was a worldwide phenomenon, chronicling daily existence in the face of life threatening ecological disaster and a growing criticism that it was nothing more than a cult. The bizarre story is both a cautionary tale and a hopeful lesson of how a small group of dreamers can potentially reimagine a new world.
Newsletter
Enter your e-mail address to receive weekly soundtrack and film score news: