'Archive' Soundtrack Released
JULY 10, 2020 | Submitted by Milan Records / Soundtrack.Net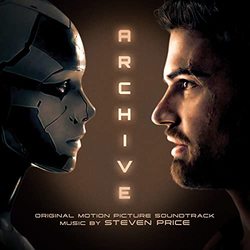 Milan Records today releases Archive (Original Motion Picture Soundtrack) with music by Academy Award-winning composer Steven Price (Gravity, Baby Driver, Suicide Squad). Available everywhere now, the album features music written by Price for director Gavin Rothery's sci-fi film starring Theo James. Vertical Entertainment will release Archive via virtual cinema, VOD and Digital on Friday, July 10.
Of the soundtrack, composer Steven Price says, "My favourite projects are the ones where the story leads me into new musical areas, and exploring the world of Archive, a movie where technology and humanity meet in a near future Kyoto, proved to be a brilliant challenge. I'd been looking for the opportunity to create a largely electronic score for the first time in a long while and the story of George Almore, his secretive AI project and the mysterious Archive let me do just thatů The music follows the developments in George's work as it progresses, and as he gets closer to achieving his hopes and dreams it was a lot of fun to blur the lines between the electronic and organic, trying to find the sound of his creations. From the moment I read writer / director Gavin Rothery's ambitious script I wanted to be involved, and throughout the process he proved to be a great collaborator and true supporter of music. I'm looking forward to people experiencing the movie Gavin has created, and it was a real pleasure to be a part of it."
"Archive was always going to need a killer score, but when I was writing the script, I had no idea how that was all going to happen," says the film's director and writer Gavin Rothery, adding, "I wanted the film to be big and cinematic. But I also needed it to feel tight and personal. I wanted some parts to be epic and bold, but others intimate and close. Some parts needed energy and power but others needed space and quiet. Technology needed to fuse with humanity. And it all needed to feel unified and whole. Basically, as is probably true with most directors, I wanted everything. Steven gave me everything. He delivered the perfect score to Archive. I'm not quite sure how he does what he does. Maybe he's a secret telepath. Maybe he's from the future. Maybe he's a robot. There is one thing that I am absolutely certain of is that he most definitely is. The best."
Newsletter
Enter your e-mail address to receive weekly soundtrack and film score news: