WaterTower Music Announces 'Judas and the Black Messiah' Soundtrack
FEBRUARY 12, 2021 | Submitted by WaterTower Music / Soundtrack.Net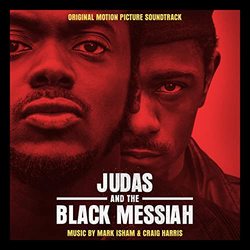 WaterTower Music is excited to announce today's release of the soundtrack to the film Judas and the Black Messiah. Inspired by true events, it tells the impactful story of community activist Fred Hampton, who became the chairman of the Illinois chapter of the Black Panther Party (BPP) in 1968, and who, through his empowering words and passion for the people, led the organization's fight for freedom and individuals' self-determination, before his assassination at the hands of the FBI. Judas and the Black Messiah was directed by Shaka King, marking his studio feature film directorial debut. The film was released today in theaters nationwide and is available in the U.S. on HBO Max for 31 days from theatrical release.
The Judas and the Black Messiah (Original Motion Picture Soundtrack) features new music from composer/ performer/ conceptualist/ curator Craig Harris, and Grammy winning composer Mark Isham To punctuate King's story of Hampton and the man who helped betray him, William O'Neal, King enlisted composers Craig Harris and Mark Isham, who enhance the realistic cinematography of `60s life in Chicago with a combination of orchestral jazz and melancholy strings. In concert with Quelle Chris and Chris Keys, who contribute the composition's percussive highlights, the quartet of musicians created a sonic backdrop that feels of the era, yet contemporary and cinematic.
The in-person collaboration between Harris and Isham was rendered impossible by the pandemic lockdowns when all recording studios were shuttered. The two utilized calls and FaceTime, as well as sending musical ideas in files, which were opened, commented upon/augmented and then returned. "When Craig and I couldn't work together, Shaka had the whole film temped with period music that could be licensed as a backup plan—it was also an experiment to see what would work. Some of the pieces did work, so Craig and I were to tie the pieces together, to expand upon themes and build music that would connect the emotional and storytelling dots," explains Mark Isham.
The composers then put together scoring sessions in New York—with distancing protocols—with accomplished musicians from the worlds of classical and jazz.
Newsletter
Enter your e-mail address to receive weekly soundtrack and film score news: