'Warrior' Season 2 Soundtrack Album Released
MAY 7, 2021 | Submitted by WaterTower Music / Soundtrack.Net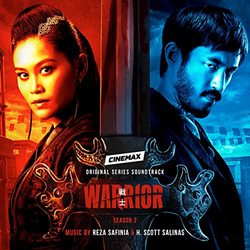 WaterTower Music is excited to announce today's release of the soundtrack for the second season of Cinemax's gritty, action-packed drama Warrior. The series was just renewed for a third season on HBO Max. Set during the brutal Tong Wars of San Francisco's Chinatown in the late 19th century, the series follows Ah Sahm (Andrew Koji), a martial arts prodigy who emigrates from China to San Francisco under mysterious circumstances. After proving his worth as a fighter, Ah Sahm becomes a hatchet man for the Hop Wei, one of Chinatown's most powerful tongs (Chinese organized crime family). Season two follows rival Chinatown tongs, the Hop Wei and the Long Zii, as they fight for dominance amidst the growing anti-Chinese racism that threatens to destroy them all.
The 27-track Warrior: Season 2 (Cinemax Original Series Soundtrack), features music from the show by multi-instrumentalist / composer Reza Safinia & award-winning composer and musician H. Scott Salinas. The composers discussed their work on the show's music:
"For this show I meditated on channeling the spirit of Bruce Lee - who had written notes about what he heard as music, and the cultural significance of his bringing Daoist philosophy and Shaolin methods to the west and to Hollywood," explained Safinia. "He struggled with the historical clash of east and west, yet had the purity of heart to overcome it, all while being mischievously entertaining."
Safinia continued, "Season 2 [of Warrior] really got into the horrific racism endured by the Chinese community of San Francisco in the 19th century. The massacre scene towards the end of season 2 was so moving, and at the same time abhorrent, it pushed me into a very serious place of reflection on the problems this country still faces regarding race, hate, and fear of "the other". There's still a lot of ass kicking fun in the show, but for that specific scene the violence was scored with the tragedy of it in mind."
H. Scott Salinas commented on the two composers' longstanding relationship and described the music. "It was wonderful collaborating with my old friend Reza Safinia on the Warrior score which is a whirlwind of guitars, drums, bass and strings, juxtaposed with flying kicks, punches, and street mayhem," Salinas explained. "With Chinese flavors mixed with hip hop and punk rock sensibilities the score serves up a potent and bold backdrop to this epic period piece inspired by Bruce Lee's writings."
Newsletter
Enter your e-mail address to receive weekly soundtrack and film score news: