Milan Records Announces 'Ratchet & Clank: Rift Apart' Soundtrack
JUNE 9, 2021 | Submitted by Sony Masterworks / Soundtrack.Net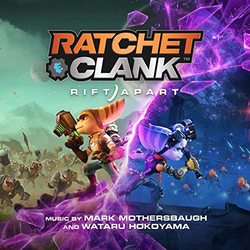 Milan Records today releases Ratchet & Clank: Rift Apart (Original Soundtrack) with music by Mark Mothersbaugh and Wataru Hokoyama. Available everywhere now, the album features music written by Mothersbaugh and Hokoyama for the latest installment in the PlayStation® video game franchise, which will be available to play on the PlayStation®5 (PS5™) console beginning Friday, June 11. The 20-track collection combines synth-heavy electronic production with cinematic orchestrations to create the perfect soundscape for Ratchet and Clank's intergalactic adventures.
Of the soundtrack, composer Mark Mothersbaugh says, "It takes an army to create a soundtrack for a video game these days, and there are a number of writers, arrangers, orchestrators, players, synth programmers that were involved. For games in general, you have to be aware that a particular level and the music embedded in it will sometimes be around for a long time, so you want to make sure your themes and melodies are iconic. The video game genre is very satisfying because of the craftsmanship involved and the attention to detail. Ratchet & Clank: Rift Apart is probably the best game score I ever got to work on."
Of the soundtrack, composer Wataru Hokoyama says, "It was just so much fun working on such an epic game like Ratchet & Clank: Rift Apart. The depth of the worlds that the game took place in allowed us to write in so many varieties of style. Working with the teams at Insomniac Games and Sony Interactive Entertainment was so amazing. They're full of great people who love and enjoy what they do, and they welcomed us as members of their big family throughout the project. The feeling of 'Let's have so much fun co-creating the world of Ratchet & Clank sound together' felt so special, and it became one of the most memorable video game projects for me. It's important for me to mention that it was Mark Mothersbaugh who brought me on board with this game project. Mark has been like a fatherly figure to me in my music career. We've done multiple blockbuster films together, and it's such an honor to have my name credited next to the DEVO legend. I look forward to our future collaborations."
Newsletter
Enter your e-mail address to receive weekly soundtrack and film score news: