'Hitman's Bodyguard's Wife' Soundtrack Released
JUNE 11, 2021 | Submitted by White Bear PR / Soundtrack.Net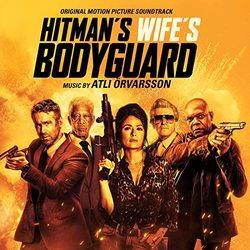 Milan Records has digitally released the Original Motion Picture Soundtrack to the upcoming action-comedy sequel, The Hitman's Wife's Bodyguard, starring Salma Hayek, Ryan Reynolds, and Samuel L. Jackson. Composer Atli Örvarsson returns with a score even more elaborate and bombastic than the first. The album is comprised of 18 high-energy tracks that will have listeners enthralled from start to finish. The soundtrack is available today on all major streaming platforms. The Hitman's Wife's Bodyguard will hit theaters nationwide on Wednesday, June 16.
In the film, the world's most lethal odd couple – bodyguard Michael Bryce (Ryan Reynolds) and hitman Darius Kincaid (Samuel L. Jackson) – are back on another life-threatening mission. Still unlicensed and under scrutiny, Bryce is forced into action by Darius's even more volatile wife, the infamous international con artist Sonia Kincaid (Salma Hayek). As Bryce is driven over the edge by his two most dangerous protectees, the trio get in over their heads in a global plot and soon find that they are all that stand between Europe and a vengeful and powerful madman (Antonio Banderas). Joining in the fun and deadly mayhem is Morgan Freeman as...well, you'll have to see.
Of the soundtrack, Atli Örvarsson says, "Director Patrick Hughes and I had been discussing this sequel since the first movie came out. I visited the set twice while working on the score, so it felt like the music became an organic part of the film. I used several of the themes from the original film, but added some new material as well, so it feels a bit like The Hitman's Bodyguard music on steroids! Working with Patrick is always so much fun and he gives me a lot of artistic freedom, so I was absolutely delighted to come back to score this hilarious sequel!"
Newsletter
Enter your e-mail address to receive weekly soundtrack and film score news: