Walt Disney Records Announces 'Jungle Cruise' Soundtrack
JULY 30, 2021 | Submitted by Disney Music / Soundtrack.Net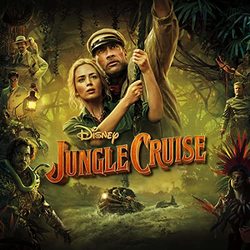 Available today from Walt Disney Records, the Jungle Cruise Original Motion Picture Soundtrack features score by Oscar-nominated, Emmy and Grammy-winning composer James Newton Howard. Disney's Jungle Cruise releases in theaters today and on Disney+ with Premier Access.
Howard is one of the film industry's most versatile and honored composers, with a career spanning over 30 years and encompassing more than 140 film and television projects. An eight-time Oscar nominee, Howard has also been honored with ASCAP's prestigious Henry Mancini Award for Lifetime Achievement and the BMI ICON Award.
Howard describes his collaboration with director Jaume Collet-Serra as "seamless." "Jaume is very mellow, relaxed and confident. He is very consistent in his approach as a director, which is what every composer hopes for."
He continues, "It was very clear what I needed to do. It wanted to be big orchestral writing, big on adventure, with a touch of the mystical. The score is also quite emotional in places, so there needed to be themes that could work in lots of different styles."
Howard used a traditional 100-piece orchestra to record the music, with electronics hidden within the orchestra to provide textures for some of the darker elements in the film. Howard comments, "We bang on brake drums, we blow through conches, and make lots of exotic sounds, but ultimately, it's all about the storytelling and what instruments do that the best. The orchestra gives the movie scale, excitement and all the emotional resonance it wants to have."
The digital soundtrack also includes the song "Nothing Else Matters," which was especially reimagined for Jungle Cruise by Metallica and Howard. The track, which was written by James Hetfield and Lars Ulrich, includes featured performances by Hetfield, Ulrich, Kirk Hammett and Robert Trujillo.
Commenting on working on the song with Metallica, Howard says, "Metallica's huge hit 'Nothing Else Matters' is really quite a beautiful song. It's moody, with a memorable melody, and I tried to orchestrate it in a way that would be consistent with the sensibilities of the song."
Newsletter
Enter your e-mail address to receive weekly soundtrack and film score news: