WaterTower Music Announces 'The Matrix Resurrections' Soundtrack
DECEMBER 17, 2021 | Submitted by WaterTower Music / Soundtrack.Net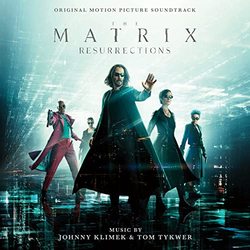 WaterTower Music has today released The Matrix Resurrections (Original Motion Picture Soundtrack) - which features the music from visionary filmmaker Lana Wachowski's long-awaited The Matrix Resurrections, the next chapter in the groundbreaking franchise that redefined a genre. The new film reunites original stars Keanu Reeves and Carrie-Anne Moss in the iconic roles they made famous, Neo and Trinity. The Matrix Resurrections (Original Motion Picture Soundtrack) features the music of Johnny Klimek & Tom Tykwer and also includes 11 remixes by Johnny Klimek & Tom Tykwer, Marcel Dettmann, Moderna, Thomas Fehlmann, System 01, Esther Silex & Kotelett, Gudrun Gut, Almost Falling, Psychic Health, Eclectic Youth, and Alessandro Adriani.
The soundtrack is now available, and the film will be in theaters nationwide and on HBO Max via the Ad-Free plan on December 22, 2021; it will be available on HBO Max for 31 days from theatrical release.
The Matrix Resurrections - Original Motion Picture Soundtrack and The Matrix Resurrections: The Remixes will be available for pre-order as 2XLP, limited-edition vinyl releases through Mondo (MondoShop.com) in the very near future.
The Matrix Resurrections (Original Motion Picture Soundtrack) sees composers Johnny Klimek & Tom Tykwer who have worked closely together and co-composed since 1996, reunite with close friend, collaborator, and The Matrix Resurrections Director/Co-Writer/Producer Lana Wachowski. Their 2012 collaboration on Cloud Atlas garnered a Golden Globe Nomination for Klimek and Twyker's work on the film's music.
Tom Tykwer discussed the composers' work on The Matrix Resurrections. "There's a powerful and distinct musical legacy here. In my opinion, The Matrix Trilogy is one of the great scores of all time. And what's particularly fantastic about it is that it was also, to my knowledge, one of the first film scores that so implemented electronic music and connected it with progressive late-modern orchestral music. It started a movement, which we are paying tribute to with this music. And yet, this film is playful and emotional with complex development, open in every direction. Johnny and I felt our challenge for the music was to pay tribute to The Matrix lineage and also support this cinematic endeavor of expanding that legacy to explore new direction. That needs to be represented in the music and that is what we are trying to investigate musically."
Johnny Klimek elaborated, "We spent several months working on material for The Matrix Resurrections, building the main themes, crafting alternative arrangements and electronic variants. We had a lot of fun mixing electronics with classical orchestra. The technology has come so far since I started scoring film."
The infusion of electronic music into the score ultimately expanded into the inclusion of 11 remixes on the album, and it was an amalgam of inspirations which brought that idea to fruition. Both composers have worked extensively with electronic music, including their work on the celebrated, techno-infused Run Lola Run soundtrack. Further, Lana Wachowski lives in Berlin and is connected to many DJs, remixers, producers and personalities deeply involved with associated with the underground electronic music scene - some of them for more than 30 years - and the well-known Berlin nightclub Berghain. These connections and inspirations organically evolved from a remix idea into the larger inclusion of remixes on the album.
Newsletter
Enter your e-mail address to receive weekly soundtrack and film score news: