Back Lot Music Announces 'Nope' Soundtrack
JULY 22, 2022 | Submitted by Costa Communications / Soundtrack.Net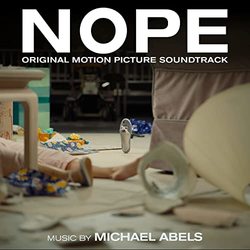 Back Lot Music announces the release of the Nope - Original Motion Picture Soundtrack with music by two-time Emmy-nominated composer Michael Abels. This marks Abels' third feature film score with director Jordan Peele, having previously scored Peele's Get Out and Us. The album also features songs from the film, including a new version of Corey Hart's classic "Sunglasses at Night (Jean Jacket Mix)", Dionne Warwick's "Walk on By," The Lost Generation's "This is the Lost Generation," Exuma's "Exuma, the Obeah Man" and a never-before-released gem by a young Jodie Foster, "La Vie C'est Chouette" from the 1977 film Moi, Fleur Bleue. The digital album can be purchased and streamed today everywhere, and a vinyl version by Waxwork Records is forthcoming. The film arrives in theatres today in North America.
"Michael is one of the most exciting composers working today - he has this amazing ability to create new sounds which was important for this film," Jordan Peele says. "He's able to play in the familiar and in the unfamiliar at the same time, so that helps give every film its own character, and he has an incredible mastery of so many different music genres."
"Nope is my most ambitious score to date," says Abels. "There are elements from the genres of sci-fi, action, horror, and westerns, but always through the tonal palette of Jordan Peele's unique vision. The lines between source music and score are blurred, as a good part of the score seems to be playing at the theme park, which is a key location in the story. The score is at times terrifying, yet also invokes the sense of awe and wonder that the characters feel as they realize what they are seeing. The film eventually becomes a grand adventure, and so the music expands into the larger than-life scale we expect of a summer blockbuster." He goes on to say, "it was a joy to compose a score that encompassed such a broad range of genres and emotions, and I'm thrilled to have audiences experience all of them through this album."
Newsletter
Enter your e-mail address to receive weekly soundtrack and film score news: