Sony Masterworks Announces 'Missing' Soundtrack
JANUARY 20, 2023 | Submitted by White Bear PR / Soundtrack.Net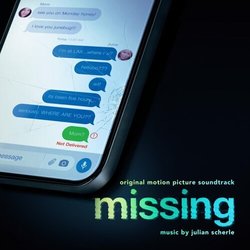 Sony Masterworks is excited to announce the release of the Missing (Original Motion Picture Soundtrack with music by composer Julian Scherle. The full album is available today, January 20, on digital platforms here.
From the minds behind Sundance winner Searching comes Missing, a thrilling roller-coaster mystery that makes you wonder how well you know those closest to you. When her mother (Nia Long) disappears while on vacation in Colombia with her new boyfriend, June's (Storm Reid) search for answers is hindered by international red tape. Stuck thousands of miles away in Los Angeles, June creatively uses all the latest technology at her fingertips to try and find her before it's too late. But as she digs deeper, her digital sleuthing raises more questions than answers...and when June unravels secrets about her mom, she discovers that she never really knew her at all.
Julian wrote an experimental score, exploring the musical possibilities of A.I. and machine-learning. He wrote his own code, mangled dialog snippets of the actors recorded on set and recompressed the recordings about 5,000 times. Julian researched studies about the psychological effects that compressed music can evoke in humans that may not be present without compression.
Scherle remarks on his score, "A project that is solely told through digital surfaces as a medium naturally fascinated me. The human-machine interaction and how digital artifacts like compression affect the way we communicate, was a huge and exciting field for me to explore musically.
Being able to write a highly conceptual score and pairing it with the extraordinary talent of the directors and producers was an incredible and fulfilling experience!"
The time and frequency-based music contains different artifacts of compression, common with Zoom or video chats, creating a synth-driven score that is contrasted with additional percussive, piano, vocal, and string elements. He discovered a microphone that records electrical interference off any type or machine and integrated it into the score.
Newsletter
Enter your e-mail address to receive weekly soundtrack and film score news: