Tyler Strickland's 'Sly' Score Released
NOVEMBER 3, 2023 | Submitted by Impact 24 PR / Soundtrack.Net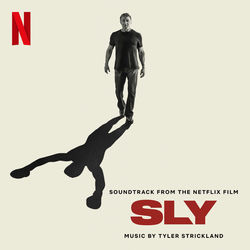 Emmy Award-winning composer Tyler Strickland has just released his latest album for the Netflix documentary, Sly. The film and soundtrack are both available to watch and listen to today.
For nearly 50 years, Sylvester Stallone has entertained millions with iconic characters and blockbuster franchises, from Rocky to Rambo to The Expendables. This retrospective documentary offers an intimate look at the Oscar-nominated actor-writer-director-producer, paralleling his inspirational underdog-story with the indelible characters he has brought to life. Adding to Stallone's journey is the original score by Tyler Strickland, with a range of Americana rock instruments to encompass Stallone as a tough, American icon. Strickland expertly and subtly weaved themes into the score about Stallone's relationship with his father and how the relationship played a role in his success.
Tyler shared, "The score for Sly goes beyond Stallone's rugged exterior to shine a light on the inner workings of his mind as an artist, a writer, as a father, and as a son. The score is emotional and follows Sly's journey from the streets of NYC to the pinnacle of Hollywood. I wanted to keep the audience engaged in his story by staying relatable with the emotions in the music. So instead of a high-energy, heroic score, I didn't shy away from highlighting the pain and isolation he feels along his journey. After all, these feelings drove him to write hit films like Rocky and Rambo. There are moments of heroism and adventure in the score, but I wanted to get to the root of what makes Sly Sly."
Newsletter
Enter your e-mail address to receive weekly soundtrack and film score news: