Disney's 'Wish' Soundtrack Album Released
NOVEMBER 17, 2023 | Submitted by Disney Music / Soundtrack.Net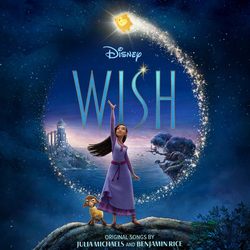 The brand-new soundtrack for Walt Disney Animation Studios' Wish is available now on all streaming platforms (Apple Music, Spotify, Amazon Music and YouTube Music), on CD and vinyl. Featuring the voices of Academy Award-winning actress Ariana DeBose as Asha, Chris Pine as King Magnifico, and Alan Tudyk as Asha's pet goat Valentino, the epic animated musical Wish hits the big screen this Thanksgiving as the storied Studio marks 100 years of moviemaking. Inspired by Walt Disney's magical, musical legacy, the movie features an original story and characters, with seven all-new songs penned by Grammy-nominated singer-songwriter Julia Michaels and Grammy-winning producer-songwriter-musician Benjamin Rice. Five songs have been released ahead of the film, and have become viral sensations - generating over 60 million creations on TikTok resulting in 5.5 billion views.
At the heart of Wish - like so many of the Disney features that came before it- is the music. "So many of our beloved films are musicals," Producer Peter Del Vecho said. "When you think of Disney, you think of a range of emotions. You want to feel like you've been on a roller coaster and part of that emotion comes from music."
When considering the songs and the songwriter for Wish, the filmmakers wanted to find someone who could deliver both a timeless and contemporary sound. Said Walt Disney Animation Studios' Chief Creative Officer Jennifer Lee, "Julia Michaels is an extraordinary talent, and Julia, along with her writing partner Benjamin Rice, have created original songs that inspired all of us working on the film. Her collaborative process was so special, really sitting down with us and talking about the motivations of our characters."
Julia Michaels commented, "Disney has been very integrated in my life throughout my whole songwriting journey. The songs in Wish are fun, emotional and heartfelt. Ben and I had to cover a lot of ground lyrically, so a lot of the songs are rhythmically whimsical and heartfelt. The collaborative process with the filmmakers was special."
Benjamin Rice added, "The songs are truly meaningful. From the opening song to the closing credits, I think the songs cover a rich emotional territory while still providing story context and the type of genuine messages that live both within the film and beyond."
According to Tom MacDougall, executive music producer/president of Walt Disney Music, Michaels and Rice represent a bold direction for songwriters at Walt Disney Animation Studios because previous musicals most often enlisted pros from the theater world. "[Julia and Ben] come from a pop-writing background and they brought a youthful exuberance to the project - fun fact, Julia is the youngest person ever to write all of the songs for a Walt Disney Animation Studios feature." For MacDougall, Michaels and Rice check all the boxes - and then some. "They fulfilled all my dreams for Wish, says MacDougall. "There is a freshness to the songs that I think audiences will connect to on many stylistic levels. I find it easy to engage in these songs quickly because of the modern meets classic sensibility that went into their creation."
Added Matt Walker, executive music producer/senior vice president, music, for Walt Disney Music, "A song in a musical serves a specific purpose in the storytelling. As the story is building and the emotion is getting bigger and bigger, it's almost as if mere dialogue won't convey the feeling and the character has no other choice but to carry on in song."
Newsletter
Enter your e-mail address to receive weekly soundtrack and film score news: