Live Theater Information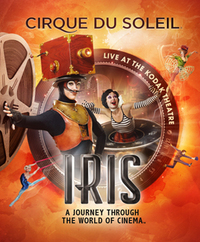 Iris - Cirque Du Soleil
Type: Live Theater
Released: September 25, 2011
Credits
Review: Cirque du Soleil: Iris
by Dan Goldwasser
June 11, 2012
4.5 / 5 Stars
Cirque du Soleil, the Montreal-based acrobatic entertainment franchise, has tackled nearly every genre at this point. They have a water-themed show, O; a mythology show, Mystere; a fairy tale show, La Nouba, a sensuality show, Zumanity, a martial arts show, Ka; a Beatles-themed show, Love; a magic show, Criss Angel Believe; an Elvis-themed show, Viva Elvis; and even a Michael Jackson-themed show currently on tour. So it was no surprise when in the fall of 2010, Cirque announced that they would have a Hollywood-themed show in residence at the Kodak Theater (now the Dolby Theatre) at Hollywood & Highland, and home of the Academy Awards.
Iris would be a "magical journey through the world of cinema," and showcase some striking and emotionally charged acrobatic performances, while loosely following a narrative storyline, per the typical Cirque show. What would make this one different was that the music would be composed by Oscar-nominated film composer Danny Elfman, and feature a soundtrack performed by over 100 musicians.
Elfman's involvement with Cirque almost seems like a match made in heaven; since his early film score days, Elfman's musical style has typically been likened to dark and quirky circus music, which worked great for those early Tim Burton films, but seems almost like a no-brainer when it comes to Cirque. Borrowing some musical influences from his own concert work, Serenada Schizophrana, Elfman's music for Iris is dramatic, evocative, and moving, and times perfectly with the fantastic displays of acrobatic wonders on (and above) the stage. The set design by Jean Rabasse evokes an old Coney Island theater, the type where audiences were first exposed to the moving picture. In the balconies on the sides, a small musical ensemble surrounds us, and performs live to accompany the pre-recorded musical material.
As with many Cirque shows, the "clowns" are unique characters that work their way through the audience, entertaining us with their clever interactions before the show begins. After a pre-recorded (and witty) song (sung by Elfman) telling us to turn off our cellphones, and not to use photography, the show begins. The narrative follows "Buster," a struggling composer who is in search of true love, and "Scarlett," a fresh-off-the-bus actress who wishes to become a movie star. This storyline is interspersed (and even integrated) into the various vignettes. Starting with two acrobats swinging high above the audience, with only one strap holding them in, the show gets off to a brilliant and awe-inspiring start.
Since "cinema" is the theme, light and shadow features strongly in Iris. Rear projection, shadow puppetry and live video screens feature into the performances. In fact, the 'camera' is a recurring character, as multiple actors holding cameras work their way through the show with live feeds projecting their views onto screens on the stage. The first half of the show is more abstract when it comes to a cinematic tribute, as contortionists thrill us with their feats, choreographed ensembles delight us, and the whole spectacle fills us with wonder.
The second act starts to take a more structured and direct homage to film making, with the opening sequence being a well-choreographed and precisely timed acrobatic "behind the scenes" look at a production on the soundstage. This leads us into a bit of rear-projection cleverness, more stunts and acrobatic marvels, culminating with the coolest trampoline "rooftop fight" sequence I've ever had the joy to witness. All of it is engaging, with never a dull moment, and plenty of comedic interludes by the "clowns." Elfman's music never lets up, and by the time the final curtain call happens, you'll be humming the main theme and rushing out to buy the soundtrack album.
Cirque Du Soleil: Iris is scheduled to play at the Holllywood & Highland complex for ten years, so there will be plenty of opportunities to see the show. But don't let this one pass you by; it's a highly entertaining and marvelous tribute to moving images, with spectacular acrobatic and athletic stunts, and wonderfully engaging music. Tickets start at $43 and go all the way up to $133 (and even higher for VIP ticket packages), but it seems to me that any seat is likely to have a good view since they reduced the capacity of the theater to make sure of that.
Shows are currently Tuesday through Friday at 8pm; Saturdays have a 3pm matinee and 8pm evening show, and Sunday nights present at a 2pm matinee and 7pm evening show. The show runs about 2.5 hours including intermission.
News &amp Articles
Live Theater Ratings
Soundtrack.Net Users

Click stars
to rate.



Missing Information?
If any information appears to be missing from this page, contact us and let us know!