Soundtrack Information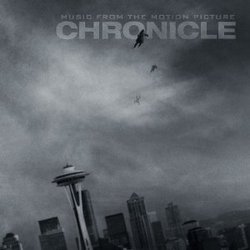 Chronicle
Release Date: January 31, 2012
Formats: CD, Digital
Music From
Purchase Soundtrack
Track Listing
| | | |
| --- | --- | --- |
| 1. | Calypso (Blonde Acid Cult) | 3:47 |
| 2. | Tell You So (The Longcut) | 6:18 |
| 3. | Gold and Warm (Bad Veins) | 3:36 |
| 4. | Bone Dry (AB & The Sea) | 2:25 |
| 5. | The Shaded Forests (Deastro) | 3:21 |
| 6. | Sweetbread Edit (Simian Mobile Disco) | 4:48 |
| 7. | Flashback (Capsule) | 4:40 |
| 8. | Sirius (Congorock) | 5:18 |
| 9. | Bury Us Alive (Strfkr) | 3:10 |
| 10. | Keep You Alive (Class Actress) | 3:14 |
| 11. | American Mourning (Bikini) | 4:11 |
| 12. | This Bright Flash (M83) | 2:21 |
| | Total Album Time: | 47:09 |
From the Manufacturer
Chronicle is 26-year old Josh Trank's directorial debut. It is very much in the vain of District 9 with a fantastic sci-fi backdrop andincredible special effects. Three high school students make a discovery leading totheir developing uncanny powers beyond their understanding. Asthey learn to control these newfound abilities and use them to their advantage,their lives start to spin out of control, and darker sides begin totake over.
The soundtrack album echoes the fast paced, hyperactive movie and features electro and indie rock tracks by a wide variety of bands and artists popular among teenagers.
Missing Information?
If any information appears to be missing from this page, contact us and let us know!