Soundtrack Information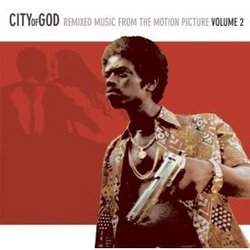 City of God Remixed Vol. 2
Lakeshore Records (RUN 33786)
Release Date: December 31, 2003
Format: CD
Music From
Purchase Soundtrack
Track Listing
1.
Convite para Vida Domestic House Edit - Felipe Venancio
2.
Cidade Sao Paulo - DJ Mau Mau
3.
Fast Samba 2004 Edit - Gui Boratto
4.
Hard Galinha - Renato Cohen
5.
Mad Zoo Sessions - Mad Zoo
6.
Molestado - Gui Boratto
7.
Little Ze Goes To Hell - 2Freakz - DJ Camilo Rocha & DJ Yah!
8.
Cocaine Mix - DJ Paula & Philip Braunstein
9.
Dadinho - DJ Periferico Break Mix
10.
Ze Pequeno [Autoload Mix] - Autoload
11.
A Busca Da Vida - Ramilson Maia
12.
Ze Pequeno Nao Corre [Mix Edit] - Drumagick
13.
Malandragem [Edit] - Ramilson Maia
14.
So Mano De Paz - Black Gero
Track lengths not available for this album. If you have track length/time information for this album, please e-mail it to us at mail@soundtrack.net and we will add it to the database.
From the Manufacturer
Remixes of the original soundtrack of Cidade de Deus (City Of God), composed by Antônio Pinto and Ed Côrtes.
Brazil, 1960's, City of God. The Tender Trio robs motels and gas trucks. Younger kids watch and learn well...too well. 1970's: Li'l Zé has prospered very well and owns the city. He causes violence and fear as he wipes out rival gangs without mercy. His best friend Bené is the only one to keep him on the good side of sanity. Rocket has watched these two gain power for years, and he wants no part of it. Yet he keeps getting swept up in the madness. All he wants to do is take pictures. 1980's: Things are out of control between the last two remaining gangs...will it ever end? Welcome to the City of God.
Missing Information?
If any information appears to be missing from this page, contact us and let us know!