Soundtrack Information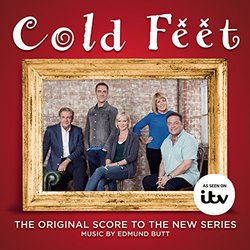 Cold Feet - New Series Original Score
Release Date: 2016
Format: Digital
Music By
Track Listing
1.
Main Theme
2.
Airport Arrival
3.
Let's Get Married
4.
Matthew's Theme
5.
Pete's Theme
6.
Growing Pains
7.
Great in Bed
8.
Rachel's Gone
9.
Robert's Arrested
10.
Harry's Theme
11.
Singapore
12.
Adam Says Goodbye
13.
Adam Falls in Love
14.
Best Birthday Ever
15.
Pete Breaks Down
16.
Covert Operations
17.
Rachel's Ghost
18.
Grown Men and Lycra
19.
My Son
20.
Jenny's Theme
21.
Adam Dreams
22.
Kiss Hello
Track lengths not available for this album. If you have track length/time information for this album, please e-mail it to us at mail@soundtrack.net and we will add it to the database.
Missing Information?
If any information appears to be missing from this page, contact us and let us know!