Soundtrack Information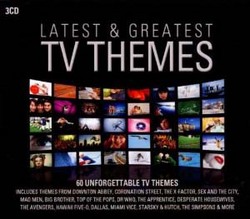 Latest and Greatest TV Themes
Release Date: March 6, 2012
Format: CD
Purchase Soundtrack
Track Listing
Disc 1: Latest and Greatest TV Themes
1.
Sex and The City Theme
2.
Cold Feet Theme: Female of the Species
3.
The X-Factor Theme
4.
Glee Theme: Don't Stop Believin'
5.
Hannah Montana Theme: The Best of Both Worlds
6.
Big Brother Theme
7.
I'm A Celebrity (Get Me Out of Here!) Theme
8.
Ugly Betty Theme
9.
The Apprentice Theme: Dance of the Knights
10.
Merlin Theme
11.
Downton Abbey Theme
12.
The Tutors Theme
13.
Desperate Housewives Theme
14.
Come Dine With Me Theme
15.
Strictly Come Dancing Theme
16.
Buffy the Vampire Slayer Theme
17.
Six Feet Under Theme
18.
Mad Men Theme
19.
Midsomer Murders Theme
20.
24 Theme - Suite from 24
Disc 2: Latest and Greatest TV Themes
1.
The A Team Theme
2.
Knight Rider Theme
3.
Mission Impossible Theme
4.
The Professionals Theme
5.
Starsky and Hutch Theme
6.
Hawaii Five-O Theme
7.
The Sweeney Theme
8.
The Rockford Files Theme
9.
Miami Vice Theme
10.
The Simpsons Theme
11.
Top Gear Theme
12.
Fame Theme
13.
Neighbours Theme
14.
Eastenders Theme
15.
Emmerdale Farm Theme
16.
Coronation Street Theme
17.
Dallas Theme
18.
Star Trek Theme
19.
Thunderbirds Theme
20.
Red Dwarf Theme
Disc 3: Latest and Greatest TV Themes
1.
Hill Street Blues Theme
2.
Taxi Theme - Angela
3.
M*A*S*H Theme - Suicide is Painless
4.
Cheers Theme
5.
Happy Days Theme
6.
The New Adventures of Black Beauty Theme
7.
The Avengers Theme
8.
The Saint Theme
9.
The Prisoner Theme
10.
The X-Files Theme
11.
Inspector Moore Theme
12.
Harry's Game Theme
13.
Twin Peaks Theme
14.
Dr. Who Theme
15.
Top of the Pops Theme - The Wizard
16.
NYPD Blue Theme
17.
Baywatch Theme
18.
The Man From U.N.C.L.E. Theme
19.
Scooby Doo, Where Are You? Theme
20.
Captain Pugwash Theme
Track lengths not available for this album. If you have track length/time information for this album, please e-mail it to us at mail@soundtrack.net and we will add it to the database.
Related Albums
The A-TeamSilva America (STD 5020)

Released: 1999

Formats: CD, Digital (35 min)
Missing Information?
If any information appears to be missing from this page, contact us and let us know!