Soundtrack Information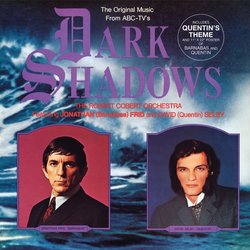 Dark Shadows
Release Date: April 16, 2016
Format: Vinyl
Music By
Track Listing
1.
SIDE 1: Opening Themes: Dark Shadows / Collinwood
2.
I'll Be With You, Always
3.
Josette's Theme
4.
A Darkness At Collinwood
5.
Meditations
6.
Night Of The Pentagram
7.
When I'm Dead
8.
No. 1 At The Blue Whale
9.
SIDE 2: Shadows Of The Night (Quention's Theme)
10.
The Secret Room
11.
Epitaph
12.
Séance
13.
I, Barnabas
14.
Back At The Blue Whale
15.
The Old House
16.
Epilogue / Dark Shadows
Track lengths not available for this album. If you have track length/time information for this album, please e-mail it to us at mail@soundtrack.net and we will add it to the database.
Missing Information?
If any information appears to be missing from this page, contact us and let us know!