Soundtrack Information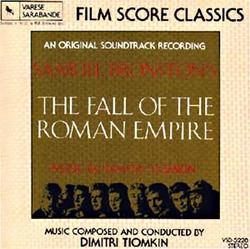 The Fall of the Roman Empire
Varese Sarabande (VSD-5228)
Release Date: 1989
Format: CD
Music From
Music By
Track Listing
1.
Overture
2.
The Fall of Love
3.
Lucilla's Sorrow
4.
Ballomar's Barbarian Attack
5.
Morning
6.
Profundo
7.
Notturno
8.
Pax Romana (Bolero)
9.
The Prophecy
10.
Persian Battle
11.
Dawn of Love
12.
The Roman Forum
13.
Addio
14.
Tarantella
15.
Resurrection
16.
The Fall of Rome
Track lengths not available for this album. If you have track length/time information for this album, please e-mail it to us at mail@soundtrack.net and we will add it to the database.
Missing Information?
If any information appears to be missing from this page, contact us and let us know!