Soundtrack Information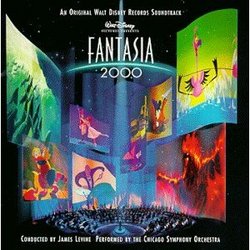 Fantasia 2000
Release Date: November 30, 1999
Conducted by James Levine
Performed by
The Chicago Symphony Orchestra / The Philharmonia Orchestra
Formats: CD, Digital
Music From
Purchase Soundtrack
Track Listing
| | | |
| --- | --- | --- |
| 1. | Beethoven: "Symphony No. 5" | 2:51 |
| 2. | Respighi: "Pines Of Rome" | 10:18 |
| 3. | Gershwin: "Rhapsody In Blue" | 12:32 |
| 4. | Shostakovich: "Piano Concerto No. 2, Allegro, Opus 102" | 7:22 |
| 5. | Saint-Saens: "Carnival Of The Animals, Finale" | 1:54 |
| 6. | Dukas: "The Sorcerer's Apprentice" | 9:33 |
| 7. | Elgar: "Pomp And Circumstance, Marches #1, 2, 3 & 4" | 6:18 |
| 8. | Stravinsky: "Firebird Suite - 1919 Version" | 9:11 |
| | Total Album Time: | 59:59 |
Review: Fantasia 2000
by John Herzog
March 16, 2001
5 / 5 Stars
If one could describe this album in one word, the word that they would have to use is classic. Indeed, Fantasia 2000 is a classic CD, filled to the brim with some of the best music from such composers as Stravinsky, Gershwin, and Elgar. If you are looking for a compilation CD of some of the best classical pieces of music, look no further.
There are three tracks on this CD that stand out from the rest, however the remaining tracks are still very good. The first is Gershwin's "Rhapsody in Blue". This is an absolutely wonderful piece of music. It is as classic as it is timeless. For the visuals, Disney put the music to animation that has the look and feel of world-renowned caricature artist Al Hirschfeld. It is said that Hirschfeld himself suggested that the Disney animators use "Rhapsody in Blue" for the background music for the sequence. The mixture of both of these extraordinary talents makes this cue wonderful and magical. Incidentally, James Levine conducts the version on the album, but Bruce Broughton conducts the film version. Both men, however, do a fantastic job at conducting (see the film for Broughtonís version). The piano solos by Ralph Grierson are absolutely phenomenal.
The second track that stands out on this CD is Saint-Saens' "Carnival of the Animals". This is a fun cue, full of jumpiness and character. The strings are gloriously zany here, and the flutes add a wonderful sound to the piece. Disney Animation Director teamed this music up with animation of a misfit flamingo with a yo-yo. The visuals are stunning, as well as delightfully humorous. Paired up with the animation, the track makes for one of the most enjoyable listening experiences on the whole album, although it is a great piece on its own.
Elgar's "Pomp And Circumstance" definitely lives up to its name. It is very haughty and debonair, yet extremely enjoyable to listen to. Its boldness and succinctness is very likable and fun. The Chicago Symphony Orchestra really shines here. Through the music, it sounds as the members of the orchestra are having a lot of fun, and it shows. This is cue is a joy to listen to again and again due to great execution and talent. It completely stands on its own, putting the visuals aside.
The other tracks are splendid as well. "The Sorcererís Apprentice" adds a nice touch, and ties this film to the first Fantasia film. "Symphony No. 5" is great, classic Beethoven, and this shorter excerpt from the first movement is performed beautifully. Respighiís "Pines of Rome" is a gorgeous track, filled with mysticism and magic. It is one of the more grand cues on the CD and leaves you with a feeling of awe and wonder. "Piano Concerto No.2, Allegro, Opus 102" tells a wonderful story with music. It is bouncy, lush, and just fun for the ears. The final track, Stravinskyís "Firebird Suite" is a great ending to the album. It is also very grand and magical, but also has a certain quality about it that makes you want listen to it again, and again. The orchestra does well here, which may be that quality. It ends with wonderful splendor, closing another great chapter in the Fantasia series.
This CD is one of the best classical listening experiences I have had in a long time. It is nice to have a compilation of such diverse, yet equally talented, composers. Disney has chosen some fine work to put visuals to for a film. To Walt Disney, Fantasia is an ongoing thing, being updated every few years. With Fantasia 2000, the Disney animators have chosen some quality pieces of music. Let's hope that with the next Fantasia films to come, Disney will be able to use such wonderful cues as are to be found on the Fantasia 2000 album.
Missing Information?
If any information appears to be missing from this page, contact us and let us know!