Soundtrack Information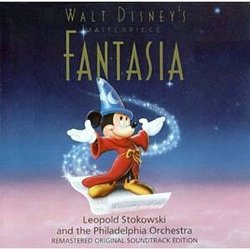 Fantasia
Remastered Original Soundtrack Edition
Walt Disney Records (60007-7)
Release Date: July 31, 2001
Conducted by Leopold Stokowski
Performed by
The Philadelphia Orchestra
Formats: CD, Digital
Music From
Purchase Soundtrack
Track Listing
Disc 1: Fantasia
1.
"Toccata and Fugue in D Minor, BWV 565" - J.S. Bach
9:22
2.
The Nutcracker Suite - "Dance of the Sugar Plum Fairy" - P.I. Tchaikovsky
2:41
3.
The Nutcracker Suite - "Chinese Dance" - P.I. Tchaikovsky
1:02
4.
The Nutcracker Suite - "Dance of the Reed Flutes" - P.I. Tchaikovsky
1:48
5.
The Nutcracker Suite - "Arabian Dance" - P.I. Tchaikovsky
3:18
6.
The Nutcracker Suite - "Russian Dance" - P.I. Tchaikovsky
1:04
7.
The Nutcracker Suite - "Waltz of the Flowers" - P.I. Tchaikovsky
4:25
8.
"The Sorcerer's Apprentice" - Paul Dukas
9:17
9.
"Rite of Spring" - Igor Stravinsky
22:28
Disc Time:
55:25
Disc 2: Fantasia
1.
Symphony No. 6 ("Pastoral"), Op. 68 - "I. Allegro ma non troppo" - Ludwig Van Beethoven
4:40
2.
Symphony No. 6 ("Pastoral"), Op. 68 - "II. Andante molto mosso" - Ludwig Van Beethoven
6:23
3.
Symphony No. 6 ("Pastoral"), Op. 68 - "III. Allegro / IV. Allegro / V. Allegretto" - Ludwig Van Beethoven
10:57
4.
"Dance of the Hours from the opera La Gioconda" - Amilcare Ponchielli
12:13
5.
"A Night on Bald Mountain" - Modest Mussorgsky
7:25
6.
"Ave Maria, Op. 52 No. 6" - Franz Schubert
6:27
Disc Time:
Total Album Time:
48:05
103:30
Review: Fantasia
by Matt Barry
March 6, 2004
4 / 5 Stars
In the glut of the latest batch of Disney soundtrack reissues (including everything from The Little Mermaid to Newsies) majestically sits the 1990 digital remastering of legendary conductor Leopold Stokowski's original tracks to the 1940 animation extravaganza Fantasia. This album is an inarguable classic, a veritable primer for anyone interested in learning more about straight classical music, and belongs in the collection of any well-rounded soundtrack fan.
All of the old standards are on display here (many of them having attained their classic status thanks to this historic recording). From Paul Dukas' giddy orchestral tour-de-force "The Sorceror's Apprentice" to Stokowski's orchestral rearrangement of Bach's "Toccata and Fugue in D Minor", this will please newly adventurous ears as much as it will make familiar ones sweetly nostalgic. Disc one is no doubt the more accessible of the two, with the two aforementioned pieces as well as Tchaikovsky's abridged but stellar "The Nutcracker Suite". Rounding it out is Stravisky's "Rite Of Spring", sure to be a revelation for any soundtrack fan unfamiliar with this source of much inspiration for modern day composers such as John Williams and Jerry Goldsmith. (Be sure and listen for the aggressive brass and percussion that prefigured the shark material in Jaws.)
Disc two gives us the lengthier tracks, starting with Beethoven's "Pastoral" Symphony (always the least interesting part of the film for me, made worse today by Disney's revisionist history removing some glaring racial stereotypes from the proceedings – I'm not trying to get on a soapbox here, but there is a real lesson to be learned there if today's Disney wasn't so busy burying it's sordid past). Then we move on to the sprightly and energetic "Dance of the Hours" from Ponchielli's "La Giaconda". Finally, the discs close out with a knockout doubleheader that begins with Mussorgsky's terrifying "Night On Bald Mountain" and ends with Schubert's tranquil and lovely "Ave Maria". Disney archivist David R. Smith's liner notes also serve to briskly take the listener through the history of the film and the music.
Yes, the sound could be much better by today's standards, having been folded down from the rather thin-sounding six track "Fanta-Sound" masters to two track stereo on the CD. But considering the tracks are over sixty years old now, and existed well before the onslaught of widespread stereo recording, listeners will probably be surprised at how vital and robust the Philadelphia Orchestra still sounds to this day. I know I was. If it is pure digital bliss you are looking for, Disney did at one point release CDs of Irwin Kostal's 1982 digital rerecording of Fantasia's music. Honestly though, it isn't the late Stokowski conducting those tracks and therefore not nearly as fun. Soundtrack fans and Disney-philes alike should stick with this, the inimitable original.
Missing Information?
If any information appears to be missing from this page, contact us and let us know!