Movie Information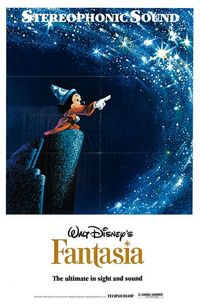 Fantasia
Released: November 13, 1940
Credits
Movie Purchasing Links
60th Anniversary Edition:
DVD
Review: Fantasia / Fantasia 2000 (Blu-ray Combo Pack)
by Dan Goldwasser
December 11, 2010
4 / 5 Stars
When it was released in 1940, Walt Disney's progressive and experimental animated feature Fantasia was unlike anything that audiences had ever seen.  A cinematic blending of classical music with interpretive animation, Fantasia didn't immediately grab the audiences that Disney had hoped for, but over time it would become a beloved and cherished viewing experience.
The segments in the film are well known by now.  Hosted by Deems Taylor, with performances by Leopold Stokowski conducting the Philadelphia Orchestra, Fantasia contains eight well known segments.  First up is the abstract interpretation of J.S. Bach's "Toccata and Fugue in D Minor".  Tchaikovsky's "Nutcracker Suite" is depicted as a change of seasons, with dancing mushrooms, fish, fairies, leaves, and flowers.  The most narrative segment, Paul Dukas' "The Sorcerer's Apprentice" features Mickey Mouse dealing with magical brooms gone amuck.  "The Rite of Spring", by Igor Stravinsky, is conceived of as a condensed history of the beginnings of life on earth, through the extinction of the dinosaurs. 
After an intermission, we get "Meet the Soundtrack" - an interpretive jazz piece involving artist's renditions of sound waveforms. Beethoven's "The Pastoral Symphony" (Symphony No. 6) is presented as a depiction of Greek mythology, with centaurs, fauns, cupids, and others gathering for a festival to celebrate Bacchus, the God of Wine. "Dance of the Hours" by Ponchielli is shown as different animals dancing for each of the different times of the day: ostriches for the morning, hippopotamus for the daytime, elephants for the evening, and alligators for the night. The climax of the film comes with the powerful depiction of the intensely powerful demon Chernabog in Mussorgsky's "Night on Bald Mountain".  After daylight comes, Schubert's "Ave Maria" concludes the film with a spiritual uplifting finale.
Released initially as a "roadshow" version running 124-minutes, Fantasia was ultimately trimmed down to a shockingly short 81-minutes release, and over the subsequent decades, for various re-issues, pieces were added back in.  For the DVD release in 2000, the original roadshow version was compiled again; but a loss of Deem Taylor's audio elements meant that a voice actor had to re-dub his part. 
Disney conceived of Fantasia as an ever-going work-in-progress, with the idea that new animated segments would constantly be added, and old ones swapped out.  As it stood, for sixty years, Walt's vision of the project was static.  At least, until Fantasia 2000 came out.  A completely different film, Fantasia 2000 retained only one previous segment from the original film, "The Sorcerer's Apprentice".  Released in 1999, the film has no singular host; instead, each segment is introduced by a different celebrity.  With James Levine conducting the Chicago Symphony Orchestra, Fantasia 2000 starts off with an abstract interpretation - much like the first film - of  Beethoven's "Symphony No. 5 in C Minor". Respighi's "Pines of Rome" shows us a family of humpback whales given the ability to fly, and uses CGI to aid in animating the graceful creatures. Gershwin's "Rhapsody in Blue" shows us a slice of life in 1930's New York City, stylized after the great caricaturist Al Hirschfeld. "Piano Concerto No. 2" by Dmitri Shostakovich is shown as a narrative interpretation of Hans Christian Anderson's "The Steafast Tin Soldier".
A bit of levity is found with Camille Saint-Saen's "The Carnival of the Animals, Finale" in which a group of dancing flamingos deal with a rebellious member of the flock who has a yo-yo.  From there, we have the archival segment of "The Sorcerer's Apprentice".  Not content to let Mickey steal the show, Donald Duck gets his own segment, a re-telling of Noah and the Ark, set to Edward Elgar's "Pomp and Circumstance".  Finally, the story of nature in a forest - with life and death- is told through Igor Stravinsky's powerful "Firebird Suite - 1919 Version".  This is one of the best segments of all, and is an absolutely stellar way to end the film.
Both Fantasia and Fantasia 2000 offer different experience to the viewer.  Some might enjoy the more abstract pieces, and others might prefer the narrative ones. As a way to expose people to classical music, both films are absolutely mandatory viewing for everyone.  The biggest problem I had with Fantasia 2000 was the campiness of the introductions; they just don't hold up as well ten years later. Fortunately, you can skip right over them.
Newly released on Blu-ray, Fantasia and Fantasia 2000 come together in a combo pack that also includes DVD versions, and a sizeable number of extras.  The films have been cleaned up and colors are vibrant, solid and bursting off the screen.  Presented in the original 4:3 aspect ratio, Fantasia is quite a sight to behold, and the detail is so great that you can see the individual brush strokes. It's very easy to appreciate the artistry that went into this film. The live action elements of the orchestra are incredibly clean with no noticeable film grain at all.  Fantasia 2000 looks cleaner and is presented in the full 16x9 aspect ratio, but due to some of the computer rendering, there is a bit of banding in some sequences. Particularly in the depths of the ocean during the "Pines of Rome" segment, it's easy to see the limitations of the technology at the time. It's not a compression/authoring issue with the Blu-ray; it's just the nature of CGI in the late 1990s.
Audio for Fantasia is presented in an English 7.1 DTS-HD Master Audio track.  It doesn't really seem to take advantage of the full surrounds, however.  Range is pretty good, but this is a seventy-year old recording, and it's hard to expect a lot of "oomph" from the speakers.  I do wish an archival 4.0 tracks (the original roadshow presentation of "Fantasound") would have been presented, but instead we just get French and Spanish 5.1 Dolby Digital "Enhanced Home Theater" mixes.  Fantasia 2000 fares better in the audio department, mainly because it was so much more modern. The music is much more immersive and clean, and when the "Firebird Suite" really kicks in, it's a bold and amazing experience, thrusting you into the middle of the orchestra. Turn up your subwoofer, because it's epic!
Supplements for this combo pack of Fantasia and Fantasia 2000 are a mix of old and new. Starting with Fantasia, we first have three audio commentaries.  The first one is a newly recorded on by Disney Historian Brian Sibley, and it's amazingly informative and well presented.  The other two are archival DVD commentaries, first featuring Walt Disney himself (from archival recordings and interviews), hosted by John Canemaker, and the third and final commentary is also from the original DVD release, featuring Executive Producer Roy E. Disney, Conductor James Levine, Animation Historian John Canemaker, and Film Restoration Manager Scott MacQueen.  Between all three commentaries, there is a wealth of detail about how this rather progressive animation project came to light.
Two new featurettes are included.  "Disney Family Museum" (HD, 4-minutes) is a brief look at the new Walt Disney Family Museum in San Francisco, hosted by Disney's daughter, Diane Disney Miller.  "The Schultheis Notebook: A Disney Treasure" (HD, 14-minutes) explores the amazing scrapbook recently rediscovered that Disney employee Herman Schultheis had created back in the late 1930s that impeccably and meticulously documented how some of the fascinating ad groundbreaking animation effects were created for Fantasia. The only other extra on Fantasia is the "Interactive Art Galleries", where you can browse and search through tons of images and artwork pieces from both Fantasia and Fantasia 2000, all in HD.  Missing are the documentaries that were included on the Fantasia Anthology DVD release, but more on that later.
In Fantasia 2000, we get only the same two audio commentaries from the DVD release: one with Executive Producer Roy E. Disney, Conductor James Levine, and Producer Don Ernst, and a second one with the directors and art directors for each segment in the film.  The first commentary is a nice overview of the entire project, and the second one is a bustling track overflowing with tons of information. We are then given three more video extras.  "Musicana" (HD, 9-minutes) is a look at what was to have been a direct sequel to Fantasia; "Dali & Disney: A Date with Destino" (SD 16x9, 82-minutes) is a feature-length documentary (running longer than Fantasia 2000!) about the rather unexpected collaborative efforts between two of the 20th Century's greatest artists.  This is followed by a recently completed presentation of their animated short film, Destino (HD, 7-minutes).  To call it bizarre is an understatement.
Finally, we get to "Disney's Virtual Vault".  This is where all those documentaries on the original DVD can be found as well as much, much more.  Over five hours of material in all… and it's all provided through streaming over BD-Live.  Now I don't mind BD-Live for streaming content, but the way this is presented is a bit frustrating. Firstly, everything plays in a small window on the screen - you can never watch the material full-screen.  Secondly, because it's BD-Live, everything takes a few seconds longer to start buffering, and for all we know, the studio could take material down as they see fit.  There is a lot of stuff here, though, including the trailers, animation tests, alternate sequences, archival featurettes, and much more. And you can build a playlist to cherry-pick what you want to watch.  But it's still frustrating that it's all done online, and all played back in a smaller window.  So for those who were thinking of retiring your Fantasia Anthology DVD set, you might want to reconsider.
Overall, it couldn't hurt to get the new Blu-ray combo pack release of Fantasia / Fantasia 2000.  Issues with the extras aside, there's enough new material provided, and the improved video and audio presentation is worth picking it up, even if it were a bare-bones release.
Missing Information?
If any information appears to be missing from this page, contact us and let us know!