Soundtrack Information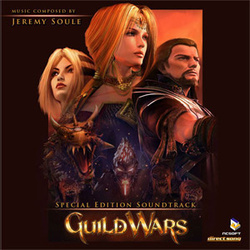 Guild Wars
Release Date: 2005
Format: Digital
Music By
Track Listing
| | | |
| --- | --- | --- |
| 1. | Guild Wars Theme | 1:34 |
| 2. | Autumn in Ascalon | 2:12 |
| 3. | Mhenlo's Theme | 1:47 |
| 4. | Trading Outpost (Bonus) | 3:10 |
| 5. | Over the Shiverpeaks | 2:16 |
| 6. | Eye of the Storm | 2:17 |
| 7. | Prince Rurik's Theme | 0:34 |
| 8. | Sands of Kryta | 2:19 |
| 9. | Divinity Coast (Bonus) | 3:14 |
| 10. | The Door of Komalie | 2:30 |
| 11. | The Moment of Truth | 2:10 |
| 12. | Devona's Theme | 1:24 |
| 13. | Gynn's Theme | 1:14 |
| 14. | Tears of the Fallen (Bonus) | 3:36 |
| 15. | Eve's Theme | 1:10 |
| 16. | Abaddon's Mouth | 2:32 |
| 17. | Crystal Oasis | 2:16 |
| 18. | Gwen's Theme | 2:44 |
| 19. | Ashford Abbey | 1:47 |
| 20. | Aidan's Theme | 1:10 |
| 21. | Guilds at War | 3:04 |
| 22. | Hall of Heroes | 2:29 |
| 23. | The Rift | 2:56 |
| 24. | Witman's Folly | 1:23 |
| 25. | Tasca's Demise | 2:26 |
| 26. | Ascension | 2:28 |
| 27. | Temple of Tolerance | 2:19 |
| 28. | The Great Raid (Bonus) | 2:31 |
| 29. | Althea's Theme | 1:11 |
| 30. | The Charr | 1:23 |
| 31. | The Great Northern Wall | 1:02 |
| 32. | Droknar's Forge | 1:19 |
| 33. | First Light (Bonus) | 3:15 |
| 34. | The Elementalist (Bonus) | 2:45 |
| 35. | A Warrior's Heart | 3:10 |
| 36. | Beyond the Ocean | 3:11 |
| | Total Album Time: | 78:48 |
Review: Guild Wars
by Mike Brennan
October 23, 2006
3 / 5 Stars
This special edition soundtrack, coming in at just under 80 minutes, features a large selection of cues from the video game score to Guild Wars by Jeremy Soule as well as eight bonus cues in addition to the album. Of his numerous epic fantasy game scores, Guild Wars is by far Soule\'s most thematic and most melodic. Track titles show nine different themes, but there are a number of other motifs running through the score as well that give it a highly varied sound, though Soule still manages to keep it orchestrationally consistent, making it a very interesting listen. In parts, the synths are more apparent than in Dungeon Siege II because he uses higher pitches (see my review of that score for a description of his sample library). The low strings that dominate Dungeon Siege II tend to sound better through the synthesizer.
"Guild Wars Theme" opens the album with a full statement of the sweeping main theme. Other themes and motifs that permeate the score are limited in their use, but the main theme runs throughout it in multiple variations, even serving as the basis for other themes, like "Prince Rurik\'s Theme", which is a slow statement of the same chord progressions in the strings. The main theme can be heard in a variety of styles in a number of cues, including "Trading Outpost" and "Sands of Kryta". The bonus cue "Divinity Coast" also contains a variation on the theme, which is one of the better ones. I find that the bonus tracks are some of the best cues on the album.
"The Moment of Truth" starts with a slow statement of the main theme and then bursts into a short, secondary action variation in the French horns. This darker, action tone continues in "Devona\'s Theme" in the trombones backed by a soft male choir. Another bonus track, "Tears of the Fallen" changes the pace a bit with a progression of horn chords over layered strings. "Guilds at War" is another strong action cue while "Temple of Tolerance" pulls the tempo back with a light string motif. The album ends with a set of bonus tracks. "The Great Raid" and "A Warrior\'s Heart" are action cues; the latter contains a solo trumpet motif which is taken over by the horns and stands out as a highlight of the soundtrack. The final cue, "Beyond the Ocean", contains a new variation of the theme again in the solo trumpet and is followed by a choir and horn and is a great end to the album. Fans of any of Soule\'s music will like this thematically strong score.
Missing Information?
If any information appears to be missing from this page, contact us and let us know!