Soundtrack Information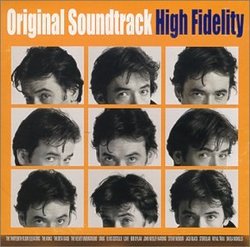 High Fidelity
Release Date: March 28, 2000
Formats: CD, Digital
Music From
Purchase Soundtrack
Track Listing
| | | |
| --- | --- | --- |
| 1. | You're Gonna Miss Me (The 13th Floor Elevators) | 2:28 |
| 2. | Everybody's Gonna Be Happy (The Kinks) | 2:18 |
| 3. | I'm Wrong About Everything (John Wesley Harding) | 3:36 |
| 4. | Oh! Sweet Nuthin' (The Velvet Underground) | 7:27 |
| 5. | Always See Your Face (Love) | 3:21 |
| 6. | Most Of The Time (Bob Dylan) | 5:03 |
| 7. | Fallen For You (Sheila Nicholls) | 3:16 |
| 8. | Dry The Rain (The Beta Band) | 6:04 |
| 9. | Shipbuilding (Elvis Costello) | 4:53 |
| 10. | Cold Blooded Old Times (Smog) | 4:12 |
| 11. | Let's Get It On (Jack Black) | 4:27 |
| 12. | Lo Boob Oscillator (Stereolab) | 6:36 |
| 13. | Inside Game (Royal Trux) | 3:42 |
| 14. | Who Loves The Sun (The Velvet Underground) | 2:46 |
| 15. | I Believe (When I Fall In Love It Will Be Forever) (Stevie Wonder) | 4:50 |
| | Total Album Time: | 64:59 |
Review: High Fidelity
by David A. Koran
March 29, 2000
3.5 / 5 Stars
First of all, I may have to disqualify myself from objectively reviewing the film (and soundtrack), since I'm a big John Cusak fan. Almost any part, big or small, that he gets his hands on usually turns out to be a reasonably good performance, from both the professional critic and fan viewpoints. The film itself, at a deeper level, given away some what by the title, is about nuances and the little curiosities of life. On a top level, it's also a relationship story, the ins and outs of one guys life, work, friends, and of course… music. The latter is what makes this release on CD a bit different from most soundtracks, and most CDs in general. All the cuts on the CD are from vinyl, down to the pops and scratches, and are even presented in mono. This keeps with the setting of a record store for the movie a bit truer.
For most "pop" soundtracks, most tracks are usually pretty disjoint, and more often than not appear as "inspired by" rather than actually adding to the texture of the film. Most of the tracks here are pretty subdued and mellow. Whether it is Bob Dylan, Elvis Costello, or The Velvet Underground, each song on this CD sets a certain mood and punctuates the moment. However, most of these are so obscure, nobody but the inhabitants of the record store where Rob (Cusak) works can put meaning to them. For a man who refuses to grow up, which in turn harms his social life, these songs also bookend a musical timeline that Rob's life never willingly leaves. The album itself could be the kind of introduction to music that Rob's co-workers wished their customers would have before even walking into the store before being subjected to the sarcastic abuse.
Personally, the film could make it on some top ten lists at the end of the year for the originality and courageous adaptation of Nick Hornby's novel. The music, for the uninitiated, could leave most viewers and listeners in the cold. It's definitely not for the score enthusiast, but for those willing to try something new rather than the manufactured digital pop of today. It's also nice to see this semi counter-culture treated thoughtfully on film, oddly like the heroin community in Trainspotting, but with vastly different results. With all the blockbusters lined up to debut in late spring, I have a feeling this film will get lost among the shuffle, so be quick not to miss it.
Missing Information?
If any information appears to be missing from this page, contact us and let us know!