Soundtrack Information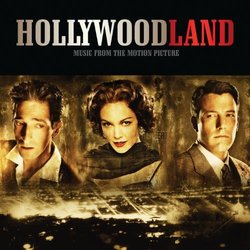 Hollywoodland
Decca Records (B0007510-02)
Release Date: 2006
Format: CD
Music From
Purchase Soundtrack
Track Listing
| | | |
| --- | --- | --- |
| 1. | "Superman M E" - Leon Klatzkin | 0:47 |
| 2. | "The Great Pretender" - The Platters | 2:40 |
| 3. | "On the Sunny Side of the Street" - Frankie Laine | 2:46 |
| 4. | "Flying Home" - Lionel Hampton | 3:14 |
| 5. | "Bo Diddley" - Bo Diddley | 2:29 |
| 6. | "It's Only Make Believe" - Conway Twitty | 2:13 |
| 7. | "El Cumbanchero" - Rafael Hernandez | 2:34 |
| 8. | "Theme from Ernie" - John Coltrane | 4:56 |
| 9. | "The Girl Can't Help It" - Little Richard | 2:31 |
| 10. | "You're Crying" - King Pleasure | 3:12 |
| 11. | "Elephant Walk" - Quincy Jones | 3:22 |
| 12. | "He Will Break Your Heart" - Jerry Butler | 2:48 |
| 13. | "Fannie Mae" - Buster Brown | 2:57 |
| 14. | "At Last" - Arturo O'Farrill and The Chico O'Farrill Afro-Cuban Jazz Orchestra | 3:46 |
| | Total Album Time: | 40:15 |
Review: Hollywoodland
by John Merriman
September 30, 2006
4 / 5 Stars
The song album for Hollywoodland is a solidly put-together, if not terribly surprising compilation featuring a wide spectrum of 1950s pop, jazz, blues, and rock and roll hits. The soundtrack showcases heavily influential vocalists and composers, represents a good balance between songs and instrumental pieces, and features a variety of differing musical styles and approaches. All in all, it\'s an affecting and enjoyable musical portrait of post-war America.
The album starts things off with the smartly appropriate inclusion of "Superman M E", Leon Klatzkin\'s theme for the 1950s TV series, The Adventures of Superman, certainly relevant to the film\'s storyline, which centers on the mysterious death of actor George Reeves. "The Great Pretender" by The Platters is next, which incidentally made the top ten pop charts in 1956. Frankie Laine\'s 1940s hit "On the Sunny Side of the Street" and Lionel Hampton\'s instrumental "Flying Home" are both classic jazz inclusions, and things pick up with Bo Diddley\'s highly rhythmic "Bo Diddley".
Conway Twitty\'s "It\'s Only Make Believe" is next, a hit 1950s rock ballad, followed by Rafael Hernandez\'s Latin instrumental "El Cumbanchero". The pace slows down with some smooth jazz, John Coltrane\'s "Theme from Ernie", then picks up again considerably with Little Richard\'s energetic "The Girl Can\'t Help It", another classic example of 1950s popular rock. The notably more downbeat instrumental jazz inclusion "You\'re Crying" by King Pleasure is next, followed by a more playful and upbeat jazz piece, Quincy Jones\'s "Elephant Walk". The blues chart topper "He Will Break Your Heart" by Jerry Butler leads into another blues hit, Buster Brown\'s "Fannie Mae", both of which contribute significantly to the variety of the soundtrack. Arturo O\'Farrill and The Chico O\'Farrill Afro-Cuban Jazz Orchestra\'s "At Last" closes the album with some appropriately laid-back, relaxing jazz.
While the songs may not be the most original inclusions for an album of 1950s music, the fact remains that they\'re all classics and particularly memorable. They\'re popular hits and well-known to many, but anyone unfamiliar with these songs will get a varied musical cross-section of music popular in the post-war era. The compilation album for Hollywoodland is recommended for anyone looking to cozy up to a well-selected, varied collection of classic hits from a storied and highly influential period in American popular musical culture.
Missing Information?
If any information appears to be missing from this page, contact us and let us know!