Soundtrack Information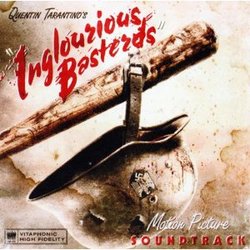 Inglourious Basterds
Release Date: August 18, 2009
Formats: CD, Digital, Vinyl
Music From
Purchase Soundtrack
Track Listing
| | | |
| --- | --- | --- |
| 1. | The Green Leaves Of Summer (Nick Perito) | 1:55 |
| 2. | The Verdict - Dopo La Condanna (Ennio Morricone) | 1:13 |
| 3. | White Lightning - Main Title (Charles Bernstein) | 2:54 |
| 4. | Slaughter (Billy Preston) | 2:49 |
| 5. | The Surrender - La Resa (Ennio Morricone) | 2:47 |
| 6. | One Silver Dollar - Un Dollaro Bucato (The Film Studio Orchestra) | 2:02 |
| 7. | Davon Geht Die Welt Nicht Unter (Zarah Leander) | 2:05 |
| 8. | The Man With The Big Sombrero (Samantha Shelton and Michael Andrew) | 1:48 |
| 9. | Ich Wollt Ich Waer Ein Huhn (Lilian Harvey & Willy Fritsch) | 2:44 |
| 10. | Main Theme From Dark Of The Sun (Jacques Loussier) | 3:10 |
| 11. | Cat People - Putting Out The Fire (David Bowie) | 4:10 |
| 12. | Tiger Tank (Lalo Schifrin) | 1:17 |
| 13. | Un Amico (Ennio Morricone) | 2:35 |
| 14. | Rabbia E Tarantella (Ennio Morricone) | 3:53 |
| | Total Album Time: | 35:22 |
Review: Inglourious Basterds
by Josh Epport
July 15, 2012
4.5 / 5 Stars
Quentin Tarantino's soundtrack for his World War II-epic Inglourious Basterds is not typical war movie fare. It is, however, typical for Tarantino, as there is no original music written for the film. Instead, the music and songs range from spaghetti westerns, to 1940s German popular music, to 1980s progressive rock. Originally, Tarantino wanted the legendary composer Ennio Morricone to score the film, and while he did not end up getting Morricone, Tarantino uses his music throughout the picture as well.
The opening titles are underscored by an instrumental version of the song "The Green Leaves of Summer" by Nick Perito. The first episode of the film is presented through "The Verdict" by Ennio Morricone, a foreboding track borrowing from "Fur Elise" by Beethoven. As he has done in previously, Tarantino borrows from Charles Bernstein, specifically in the track "White Lightening" which underscores the introduction of the Basterds. The character Hugo Stiglitz is personified by the song "Slaughter" by Billy Preston from the film of the same name from the 1970s. Morricone then returns again with "The Surrender," a suspenseful track that underlies a confrontation between a captured Nazi and one of the Basterds.
The next portion of the album features songs from the World War II period, many of them original recordings. These songs are used in the film as background music in Paris and the artists include Zarah Leander, Lilian Harvey, and Samantha Shelton. Then there are tracks by Lalo Schifrin and Jacques Loussier, which underscore the finale of the film. Tarantino uses the song "Cat People (Putting Out the Fire)" by David Bowie to underscore Shoshanna's revenge as she prepares for the premiere of the film.
The film ends with two tracks from Morricone, "Un Amico" and "Rabbia e Tarantella." This bookends the soundtrack, bringing back the music of the composer Tarantino wanted to score the film originally. Even thought the film takes place in the early 1940s, the music is from different decades, but makes the film even better for the unique usage of the soundtrack.
Missing Information?
If any information appears to be missing from this page, contact us and let us know!