Soundtrack Information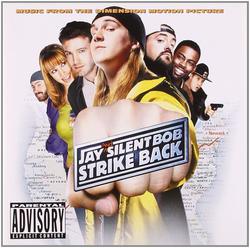 Jay and Silent Bob Strike Back
Universal Records (44001 47132)
Release Date: August 7, 2001
Formats: CD, Digital
Music From
Purchase Soundtrack
Track Listing
| | | |
| --- | --- | --- |
| 1. | Cue Music (Jason Lee) | 0:04 |
| 2. | Jay's Rap 2001 (Jason Mewes) | 0:31 |
| 3. | Kick Some Ass (Stroke 9) | 4:04 |
| 4. | Holden On Affleck (Jason Mewes & Ben Affleck) | 0:28 |
| 5. | Tube of Wonderful (David Anthony Pirner) | 1:44 |
| 6. | Cyber Savvy (Jason Mewes & Ben Affleck) | 0:07 |
| 7. | Choked Up (Minibar) | 2:58 |
| 8. | Doobie Snacks (Jason Mewes) | 0:08 |
| 9. | Magic Carpet Ride (Steppenwolf) | 2:39 |
| 10. | Jay & Justice (Jason Mewes & Shannon Elizabeth) | 0:10 |
| 11. | Bad Medicine (Bon Jovi) | 3:54 |
| 12. | Stealing Monkey's (Jason Mewes) | 0:08 |
| 13. | This Is Love (PJ Harvey) | 3:44 |
| 14. | Advice From Above (Jason Mewes) | 0:23 |
| 15. | The Devil's Song (Marcy Playground) | 2:51 |
| 16. | Idiots vs. The Internet (Jason Mewes) | 0:05 |
| 17. | Tougher Than Leather (Run-DMC) | 4:23 |
| 18. | Willenholly"s Woe (Will Ferrell) | 0:08 |
| 19. | Bullets (Bob Schneider) | 4:22 |
| 20. | Touching a Brothers Heart (Jason Mewes & Tracy Morgan) | 0:23 |
| 21. | Hiphopper (feat. Teddybears) (Thomas Rusiak) | 4:46 |
| 22. | Two Thumbs Up (Chris Rock & Joseph D. Reitman) | 0:06 |
| 23. | Jackass (Bloodhound Gang) | 2:26 |
| 24. | A Smooth Pimp and a Man-Servant (Jason Mewes) | 0:14 |
| 25. | Jungle Love (Morris Day & The Time) | 3:03 |
| 26. | Nwp (Chris Rock) | 0:14 |
| 27. | Because I Got High (Afroman) | 3:18 |
| 28. | Stop Stealing Monkeys (Jason Mewes & Will Ferrell) | 0:03 |
| | Total Album Time: | 47:24 |
Review: Jay and Silent Bob Strike Back
by Matthew Sheby
December 2, 2004
4 / 5 Stars
Ahh, another film in Kevin Smith's New Jersey Trilogy (of sorts). I became a fan of Smith's work as soon as I saw Clerks. Whether it was due to Smith's remarkable ear for dialogue or my own Garden State residency, I've always enjoyed his films. In Jay and Silent Bob Strike Back (abbreviated as JaSBSB), Smith also has a good ear for music.  There are a few hip-hop tunes on the album, including the introductory "Jay's Rap," performed by the movie's drug-dealer protagonist "Jay." A thirty second over-the-top and profanity-laden précis of Jay's life, it establishes the film's atmosphere as one not to be taken too seriously. A much more respectable anthem is Run DMC's "Tougher than Leather." Run DMC was one of the first rap groups to do quite well with white audiences, possibly (and I emphasize possibly) due to their melding of rap and rock. Yes, this occurred over a decade before the current generation of rock/rap poseurs came across the music scene. For an amusing side note, I would encourage you to track down their classic film of the same name. In addition to featuring producer Rick Rubin and label mates Beastie Boys, Tougher Than Leather is a great movie to watch while inebriated. Another side note: their "Christmas in Hollis" was the holiday rap heard in the limo ride scene of Die Hard.  How do we know this? Because here at SoundtrackNet, we're not playas, we just crush a lot.
The final rap, and is probably the currently best-known soundtrack song is Afroman's "Because I Got High." Seemingly played on LA top-40 radio every seven minutes, this relates how the protagonist's life progressively worsens because of marijuana use. Like the "Macarena," this song ticked me off after I heard it the for one-thousandth time. So if you're a fan of the song, another reason to pick up the album. If, on the other hand, you're sick of it, just hit "skip" on the CD's final track. Note to kiddies and DJs: this mix (presumably Afroman's full album version) contains the not-for-airplay verse describing certain sexual acts.
A good portion of the rest of the CD contains very cool modern rock that would play well in bars on Friday nights across the country. For example, a song making frequent top-40 play is Stroke 9's "Kick Some Ass." It's a fun and straight-ahead rock that works quite well in JaSBSB's ass-kicking montage. Of course, I realize it half-mocks modern music's foray into suburban angst, but hey, I grew up in suburban Jersey. I'm mildly helpless in Smith's targeting of my psyche.
More laid-back and almost orchestral is Dave Pirner's "Tube of Wonderful". Guitar and voice (with backing strings) comprise the texture of this wordless sonority. It's a relaxing melody, aptly described as "haunting" by Kevin Smith himself in the credits. In a similar vein, Bob Schneider half-sings, half-raps the laid-back, chill "Bullets." Including an organ and brass section, Schneider brings a jam band vibe to the album. It's most unexpected, and quite enjoyable.  Keyboards, guitars, and backup vocals rock on Minibar's contribution, possessing a simple but vaguely country-tinged melody. Adult contemporary is the probably the commonplace genre that most describes it, but don't let this label scare you off. "Choked Up" is a song that is very listenable and a sonic break from the hard tunes that antecede it on the album.
I truly hope I shouldn't have to describe Steppenwolf's well-known "Magic Carpet Ride." It accompanies a great scene in JaSBSB, and is a great song to rock out to. (Or do other unmentionable things to. Word.) Trivia note: the (recent) remix can be found on the Go soundtrack. Similarly, Bon Jovi's "Bad Medicine" is an incredible rock anthem with is quite apropos when considering this film's Jersey roots. Do not be talkin' smack about Bon Jovi. I was instantly brought back to the sixth-grade and loudly sang along to this on SoundtrackNet's reference stereo setup. Some great funk by Morris Day & The Time rounds out the classics with a concert performance of "Jungle Love." If you've not heard many example of this era in music, be sure to check out this track.
PJ Harvey, (blatant plug:) who has very nice things to say about my friend Liz Harvey, rocks out on "This is Love" with a hard, driving electric guitar. Preceded immediately by the Bon Jovi tune, it forces one to continue head-banging like nobody's business. If you're familiar with the genre, it actually sounds like a great, live bar rock tune.  Marcy Playground's donated "The Devil's Song," a song about the modern rock version of a "playa", (as Big Pun put it: "I'm not a playa, I just crush a lot").
Unless "Hiphopper" was meant to be satirical, I really don't like the Thomas Rusiak "hard-core" piece. I hope it's supposed to mock rock-rap, because "you see me driving down the street, I look so f*cking good." At this point in time, the phrases "no doubt" and "say what" should have long passed into hip-hop cliché - yet there's still a backup rapper throwing them out like he was on Kool Moe Dee. Nuh-uh.
I didn't want to like it either, but the Bloodhound Gang's self-deprecating "Jackass" won me over. Of the post-Green Day neo-punk fare that I don't normally favor, the song gets bonus points for a line that mocks MTV's "The Real World." I guess it would be good if you were a freshman moshing at some frat party.
Snippets of dialog (including a "hidden" one at the end of the Afroman track) have been interspersed among the songs. If you've seen the movie, they're only "kind-of" funny. If you've not yet seen the movie, then they'll most likely confuse you. All in all, they don't contribute much to the album. With that said, in conclusion, most of the songs are for the most part quite enjoyable and worth of being picked up. This, of course, is if one listens to modern rock.
Missing Information?
If any information appears to be missing from this page, contact us and let us know!