Soundtrack Information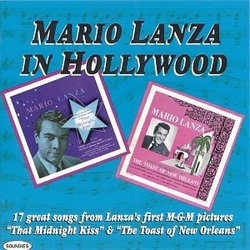 Mario Lanza in Hollywood
Release Date: April 20, 1999
Format: CD
Purchase Soundtrack
Track Listing
1.
La Boheme: Che Gelida Manina
2.
Mamma Mia, Che Vo' Sape?
3.
I Know, I Know, I Know
4.
They Didn't Believe Me
5.
Core 'Ngrato
6.
Aida: Act I - Celeste Aida
7.
The Toast Of New Orleans
8.
Be My Love
9.
Tina-Lina
10.
Boom Biddy Boom
11.
Carmen: Act II - La Fleur Que Tu M'avais Jetee
12.
L'Africana: Act IV - O Paradiso!
13.
Martha: Acth III - M'appari
14.
I'll Never Love You
15.
La Traviata: Acti I - Brindisi: Liibiamo, Libiamo, Ne'Lieti Calici
16.
The Bayou Lullaby
17.
Madama Butterfly: Act I - Love Duet: Stolta Paura, L'Amor
Track lengths not available for this album. If you have track length/time information for this album, please e-mail it to us at mail@soundtrack.net and we will add it to the database.
Missing Information?
If any information appears to be missing from this page, contact us and let us know!