Soundtrack Information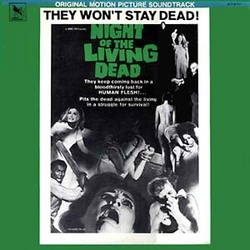 Night of the Living Dead
Varese Sarabande (STV 81151)
Release Date: 1982
Format: Vinyl
Music From
Purchase Soundtrack
Track Listing
1.
Driveway To The Cemetery (Main Title) (Spencer Moore)
2.
At The Gravesite / Flight / Refuge (William Loose / Loose-Seeley / William Loose)
3.
Farmhouse / First Approach (George Hormel)
4.
Ghoulash (JR's Demise) (Ib Glindemann)
5.
Boarding Up (George Hormel / Loose-Seeley / Ib Glindemann)
6.
First Radio Report / Torch On The Porch (Phil Green / George Hormel)
7.
Boarding Up 2 / Discovery: Gun 'N Ammo (George Hormel)
8.
Cleaning House (Spencer Moore)
9.
First Advance (Ib Glindemann)
10.
Discovery Of TV / Preparing To Escape / Tom And Judy (George Hormel / Jack Meakin)
11.
Attempted Escape (George Hormel)
12.
Truck On Fire / Ben Attacks Harry / Leg Of Leg* (George Hormel)
13.
Beat 'Em Or Burn 'Em / Final Advance (George Hormel)
14.
Helen's Death* / Dawn / Posse In The Fields / Ben Awakes (Spencer Moore)
15.
OK Vince / Funeral pyre (End Title) (Spencer Moore)
Track lengths not available for this album. If you have track length/time information for this album, please e-mail it to us at mail@soundtrack.net and we will add it to the database.
From the Manufacturer
Track Listing Legend:
* Electronic sound effects by Karl Hardman
Missing Information?
If any information appears to be missing from this page, contact us and let us know!