Soundtrack Information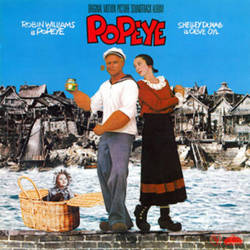 Popeye - Vinyl
Limited Edition of 2,000 Copies
Release Date: November 25, 2016
Format: Vinyl
Music From
Music By
Track Listing
1.
SIDE ONE: I Yam What I Yam (Robin Williams)
2.
He Needs Me (Shelly Duvall)
3.
Sweet Pea's Lullaby (Robin Williams)
4.
Rough House Fight
5.
Din' We (Performed Robert Fortier)
6.
Sweethaven (The Citizens of Sweet Haven)
7.
Blow Me Down (Robin Williams)
8.
SIDE TWO: Sailin' (Shelly Duvall and Robin Williams)
9.
It's Not Easy Being Me (Ray Walston)
10.
He's Large (Shelly Duvall)
11.
I'm Mean (Bluto)
12.
Kids (Ray Walston)
13.
I'm Popeye the Sailor Man (Robin Williams)
14.
End Title Medley
Track lengths not available for this album. If you have track length/time information for this album, please e-mail it to us at mail@soundtrack.net and we will add it to the database.
Missing Information?
If any information appears to be missing from this page, contact us and let us know!