Soundtrack Information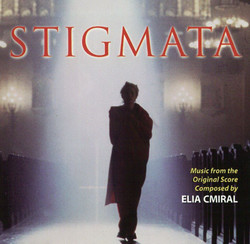 Stigmata - Original Score
Promotional Release
Release Date: 1999
Conducted by Pete Anthony
Format: CD
Music From
Music By
Track Listing
1.
Stigmata

[previewing track]

6:30
2.
Subway Attack

[previewing track]

2:46
3.
Aramaic Script

[previewing track]

4:33
4.
Francis of Assisi

[previewing track]

2:01
5.
Gospel Commission

[previewing track]

3:58
6.
Evil & Franki's Rebirth

[previewing track]

5:08
7.
Lost Scroll

[previewing track]

3:03
8.
Smells Like Jasmine

[previewing track]

1:24
9.
Why Do I Get Stigmata?

[previewing track]

2:56
10.
She Is Just A Messenger

[previewing track]

2:10
11.
A Man on the Mission

[previewing track]

2:53
Total Album Time:
37:22
Review: Stigmata (score)
by Dan Goldwasser
October 11, 1999
4 / 5 Stars
It is truly a shame that Virgin Records for some reason decided to release only Billy Corgan's score contribution to Stigmata, and not include any of Elia Cmiral's score. After all, Cmiral wrote more than half of the score, and it was his contribution, in the end, which provided much of the thematic material in the film. Thankfully, Cmiral stuck by his work and ended up releasing a promotional album of his score to Stigmata - an album that still deserves an official release so that the masses can enjoy it.
The album begins with "Stigmata", a showcase of Cmiral's percussive mastery (a talent he proved earlier in Ronin) combined with a full orchestra, some synth effects, and two female soloists. The soft piano theme, which showed up quite a lot in the film, is introduced in this track, but is quickly overtaken by the harsh percussions and orchestra. The use of vocalists is quite stirring, and while there are moments in the score that feel a bit too much like Mark Snow's work on "The X-Files", there abundance of excellent thematic material overshadows any negatives that the comparison might make.
There are plenty of action cues, most notably in "Subway Attack" and "Evil & Franki's Rebirth". There are also times where it feels as though there is more synth/percussive underscore than I would like to have heard (since it's not something that stands on its own very well, unlike thematic material), but there are quite a few notable moments in the score which pushes this album well into the "must have" section. These moments include the very ominous soloist showing up in track 1 ("Stigmata") at 5:43; the very very cool religious chord sequencing/hip-hop grunge percussion/vocal soloist moment at 3:49 in "Evil & Franki's Rebirth"; the stereo separated percussion at the beginning of "Smells Like Jasmine" (which made me think for just a moment that there was something physically wrong with my car!); and the hopeful climax of "A Man on the Mission". Of course, these are just a few selected moments - there are plenty of others which make this album worth getting.
However, there lies the problem. As this was a promotional release through Intrada, I suppose one might be able to order it from them. It certainly isn't available through your local retailer, so you will probably have a hard time finding it. But if you do manage to find it, I am willing to bet you won't be disappointed.
Missing Information?
If any information appears to be missing from this page, contact us and let us know!