Soundtrack Information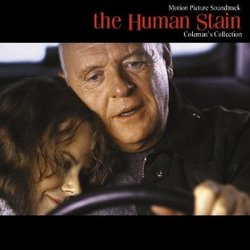 The Human Stain: Coleman's Collection
Release Date: October 14, 2003
Formats: CD, Digital
Music From
Purchase Soundtrack
Track Listing
| | | |
| --- | --- | --- |
| 1. | Honeysuckle Rose (Jess Stacy) | 2:54 |
| 2. | Woodchopper's Ball (Woody Herman) | 3:16 |
| 3. | Sleepy Lagoon (Tommy Dorsey) | 2:10 |
| 4. | Cheek to Cheek (Fred Astaire) | 5:03 |
| 5. | I Got It Bad and That Ain't Good (The Oscar Peterson Trio) | 3:09 |
| 6. | Day Dream (Marian McPartland) | 3:14 |
| 7. | Cry Me a River (Ken Peplowski) | 6:46 |
| 8. | Embraceable You (Teddy Wilson) | 4:06 |
| 9. | Day Dream (Johnny Hodges) | 2:57 |
| 10. | Schubert String Quintet in C, Opus 163 D956 (Gunter Weiss, The Vienna Konzerthaus Quartet) | 15:07 |
| | Total Album Time: | 48:42 |
Review: Human Stain: Coleman's Collection, The
by Rafael Ruiz
November 22, 2003
2.5 / 5 Stars
As Rob Gordon from High Fidelity says, "A good compilation… is hard to do. You gotta kick off with a killer, to hold the attention. Then you have to take it up a notch, but not blow your wad, so maybe cool it off a notch, and you can't put the same artist twice… except if some subtle point or lesson or theme involved, and even then not the two of them in a row and... oh, there are a lot of rules."
And that is very, very true here.
In Robert Benton's adaptation of the Phillip Roth novel The Human Stain, Anthony Hopkin's character Coleman Silk is a man with a secret. He's also a cultured man, of many passions. This album is, as the sticker says, "A Special Collection of hand-picked jazz classics and standards."  And it is a representation of Silk's tastes, as his character grew up in the 1930s and 40s.
With the wonderful Rachel Portman's score on its own album, this disc is just simply a collection of oddities, You've got Jazz greats: "Honeysuckle Rose" as well as Duke Ellington's "I Got It Bad And That Ain't Good" and "Day Dream" performed by The Oscar Peterson Peterson Trio and Johnny Hodges & Orchestra. Fred Astaire's "Cheek to Cheek" is used in the movie's best moment, an impromptu dance of joy between Silks and his best friend Nathan Zuckerman (Gary Sinise).
By themselves, theses songs are all fantastic. And in fact my rating on this album is markable lower than the sum of its parts deserves. But the album doesn't seem to be organized in any way. There's no theme involved in the music. No flow or progress. It feels as if they simply were placed in a general order (since that's what they had) with the Schubert Quartet piece placed at the end just because it is the longest piece and there's no other place for it. This makes for a mellow, but undistinguished listen.
Missing Information?
If any information appears to be missing from this page, contact us and let us know!