Soundtrack Information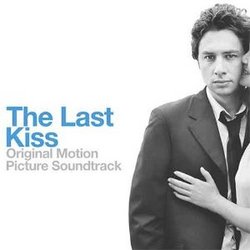 The Last Kiss
Lakeshore Records (LKS 338692)
Release Date: August 8, 2006
Formats: CD, Digital
Music From
Purchase Soundtrack
Track Listing
| | | |
| --- | --- | --- |
| 1. | "Chocolate" - Snow Patrol | 3:31 |
| 2. | "Star Mile" - Joshua Radin | 4:01 |
| 3. | "Pain Killer" - Turin Brakes | 3:55 |
| 4. | "Warning Sign" - Coldplay | 5:29 |
| 5. | "Ride" - Cary Brothers | 3:12 |
| 6. | "El Salvador" - Athlete | 3:25 |
| 7. | "Hide And Seek" - Imogen Heap | 4:22 |
| 8. | "Reason Why" - Rachael Yamagata | 5:05 |
| 9. | "Hold You In My Arms" - Ray Lamontagne | 5:05 |
| 10. | "Prophecy" - Remy Zero | 3:24 |
| 11. | "Paper Bag" - Fiona Apple | 3:39 |
| 12. | "Today's The Day" - Aimee Mann | 4:43 |
| 13. | "Arms Of A Woman" - Amos Lee | 4:10 |
| 14. | "Cigarettes And Chocolate Milk (Reprise)" - Rufus Wainwright | 3:58 |
| 15. | "Paperweight" - Joshua Radin and Schuyler Fisk | 3:30 |
| | Total Album Time: | 61:29 |
Review: Last Kiss, The
by Brian McVickar
September 18, 2006
3.5 / 5 Stars
In Hollywood, Zach Braff has proved himself a formidable quadruple threat in the areas of acting, writing, directing and Grammy-winning soundtrack producing. In his latest film, The Last Kiss, Braff serves only in two of these roles (acting and soundtrack producing) this time out, but proves a winner in both. The album for The Last Kiss again shows that, like writer/director Cameron Crowe, he has a great ability for promoting distinctly good pop music. The film\'s story charts a painful passage for several couples at various stages in their relationships, some still fresh, another weathered with age, and the fallout from decisions made in these moments.
The album from Lakeshore Records opens with the earnest and steady rock of "Chocolate" by Snow Patrol then moves to the gentle acoustics and vocals of Joshua Radin\'s "Star Mile". Toe-tapping rock returns in the carefree yet ironically titled "Pain Killer" by Turin Brakes while Coldplay\'s "Warning Sign" is a wonderfully sad, lyrical and introspective offering. Braff himself directed the Cary Brothers in the music video for their song "Ride", a dreamy, engaging tune. In "El Salvador" a grinning, irreverent tone not unlike Beck is achieved in its ambling tempo and uncomplicated instrumentation.
The first female artist of the album is Imogen Heap\'s winning "Hide and Seek" which consists solely of overdubs of her own voice. Rachael Yamagata follows, accompanied by piano and drums, in the sadly sweet "Reason Why". Sparse but pleasant acoustic textures such as guitar, handclaps and strings, then provide support for Ray Lamontagne in "Hold You In My Arms". Unabashed rock returns in the rollicking "Prophecy" by Remy Zero as critical and fan favorite Fiona Apple displays her considerable, soulful talent in "Paper Bag". Other engaging tunes include Aimee Mann\'s sonorous death knell for love\'s end, "Today\'s The Day", the oft-played, infectious "Cigarettes and Chocolate Milk" by Rufus Wainwright, who\'s vocals at times resembles Radiohead frontman Thom Yorke and the closing, folksy offering by Joshua Radin and Schuyler Fisk, "Paperweight". By now, fans knows whether or not they share the same musical sensibilities as Braff so it\'s a foregone conclusion that if they enjoyed his selections for Garden State and the two volumes of songs from Scrubs, then The Last Kiss would be another smart find.
Missing Information?
If any information appears to be missing from this page, contact us and let us know!