Soundtrack Information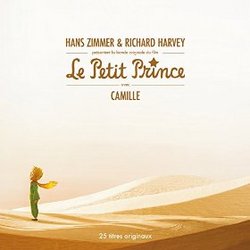 Le Petit Prince
Release Date: July 24, 2015
Format: CD
Music From
Music By
Track Listing
1.
Preparation
2.
Suis-moi (feat. Camille)
3.
The Life Plan
4.
Driving
5.
Equation (feat. Camille)
6.
The Interview
7.
Le Tour de France en Diligence (feat. Camille)
8.
Plan B
9.
Getting On With It
10.
Amongst the Coins
11.
Top Floor Please
12.
Ascending
13.
Parachutes
14.
Draw Me A Sheep
15.
Stars
16.
The Fox
17.
The Journey
18.
The Absurd Waltz
19.
Suis-moi (Reprise) (feat. Camille)
20.
Recovery
21.
Trapped Stars
22.
Farewell
23.
Escape
24.
Finding the Rose
25.
Growing Up
Track lengths not available for this album. If you have track length/time information for this album, please e-mail it to us at mail@soundtrack.net and we will add it to the database.
Missing Information?
If any information appears to be missing from this page, contact us and let us know!