Soundtrack Information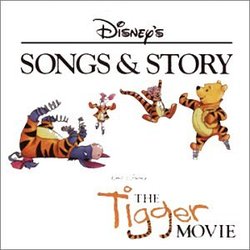 The Tigger Movie: Songs and Story
(include Storybook)
Walt Disney Records (60442-2)
Release Date: 2000
Format: CD
Music From
Music By
Track Listing
| | | |
| --- | --- | --- |
| 1. | The Tigger Movie Story | 12:43 |
| 2. | The Wonderful Thing About Tiggers | 0:36 |
| 3. | Someone Like Me | 1:54 |
| 4. | Whoop-de-Dooper Bounce | 2:10 |
| 5. | Pooh's Lullabee | 1:39 |
| 6. | Round My Family Tree | 2:50 |
| 7. | How to Be a Tigger | 2:26 |
| 8. | Your Heart Will Lead You Home (performed by Kenny Loggins) | 4:23 |
| | Total Album Time: | 28:41 |
Review: Tigger Movie: Songs and Story, The
by Dan Goldwasser
June 21, 2004
4 / 5 Stars
What's the wonderful thing about Tiggers? Well, Tiggers are wonderful things! It may have taken a few decades, but Tigger finally got his own feature film. Kind of. Sure Winnie, Piglet, Own, Kanga, Roo, and the rest are all there, but The Tigger Movie focuses on Tigger (of course) and his quest to find his real family. The film featured score by Harry Gregson-Williams and songs by famed Disney songwriters Robert and Richard Sherman. While there was not a conventional soundtrack release for this film, there was a "Songs and Story" album, which comes close enough.
We first start off with a nice abridged version of the film (meant to be read along with the storybook that's included with the package), as narrated by Roy Dotrice (who I remember best as Leopold Mozart in Amadeus). It's a nice story to listen to, and parents and children alike will feel warm in its message of hope, friendship, and love. The underscore seems to be rather subdued, and consists primarily of the "Winnie the Pooh" theme song (orchestral, of course). I doubt that this is the work of Gregson-Williams, as his name doesn't appear anywhere on the album.
After the story has ended, we are provided with seven delightful songs. The classic "The Wonderful Thing About Tiggers" is presented here, as well as "Pooh's Lullabee" and "Round My Family Tree". All of these songs (and the others) are heartfelt and a joy to listen to. As someone who grew up watching Winnie the Pooh on film and television, it was a pleasure to hear some of the older songs, as well as experience some of the new ones. The Sherman Brothers still have the touch!
The last song on the album is a new song by Kenny Loggins. This song is a brilliant piece of work, and Loggins performs it with such emotion and energy, that I will be seriously disappointed if it doesn't get the recognition it deserves. The disc runs a hair under 30 minutes long, but it comes with a nice 40-page storybook filled with artwork from the film, and I think kids and parents will find it a job to read and listen to.
Missing Information?
If any information appears to be missing from this page, contact us and let us know!