Soundtrack Information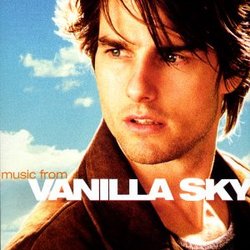 Vanilla Sky
Reprise (9 48109-2)
Release Date: December 11, 2001
Formats: CD, Digital
Music From
Purchase Soundtrack
Track Listing
| | | |
| --- | --- | --- |
| 1. | "All the Right Friends" - R.E.M. | 2:46 |
| 2. | "Everything In Its Right Place" - Radiohead | 4:09 |
| 3. | "Vanilla Sky" - Paul McCartney | 2:46 |
| 4. | "Solsbury Hill" - Peter Gabriel | 4:22 |
| 5. | "I Fall Apart" - Julianna Gianni | 3:52 |
| 6. | "Porpoise Song (Theme from "Head")" - The Monkees | 2:40 |
| 7. | "Mondo '77" - Looper featuring Francis MacDonald | 4:54 |
| 8. | "Have You Forgotten" - Red House Painters | 5:28 |
| 9. | "Directions" - Josh Rouse | 3:24 |
| 10. | "Afrika Shox" - Leftfield / Afrika Bambaataa | 3:44 |
| 11. | "Svenfn-g-englar" - Sigur Ros | 9:15 |
| 12. | "Last Goodbye" - Jeff Buckley | 4:33 |
| 13. | "Can We Still Be Friends" - Todd Rundgren | 3:33 |
| 14. | "Fourth Time Around" - Bob Dylan | 4:34 |
| 15. | "Elevator Beat" - Nancy Wilson | 2:44 |
| 16. | "Sweetness Follows" - R.E.M. | 4:19 |
| 17. | "Where Do I Begin" - The Chemical Brothers | 6:29 |
| | Total Album Time: | 73:32 |
Review: Vanilla Sky
by Glenn McClanan
August 30, 2003
4 / 5 Stars
Vanilla Sky, directed by Cameron Crowe and starring Tom Cruise, is a film that is daring and inventive by Hollywood standards, but unfortunately relies to heavily on the flawed original to turn that "daring and inventive" into good.  And though, Cameron Crowe's rewrite of the original script lacks the innovation it needs to make a great film, his legendary love of music shines through on the excellent soundtrack.
Based on the Spanish film Open Your Eyes, this film tells the story of a spoiled playboy who learns he has thrown away one too many girlfriends when one of his ex's takes him on a one way joy ride that kills her and permanently deforms him.  The deformity destroys his chances at love with a woman he had just met, and leads to his whole life spinning out of control.  The story is told in flashback, with a masked version of the protagonist tries to convince a psychiatrist that he has not committed a murder (of whom, we are not sure at first.)  The film has a big mind-bending twist toward the end, which, as with the original, does not work because it is not set up well.  It is essentially a cheat, and it bends my mind how the extremely talented Crowe chose not to address this major flaw. Ultimately, the film has some slick and cool components which are interesting, but the poorly constructed tale at its center betrays it. It is a good story poorly told.  In the end, the original is better, because for the film to work, it has to be slick, stylish, and cold, and Crowe just isn't that kind of writer or director. Having said that, what Crowe does accomplish that failed in the original is that we feel the rather unappealing protagonist does learn something at the end.  Cruise is surprisingly sympathetic in a fairly unsympathetic role.
As for the soundtrack of Vanilla Sky, there is no score on the album.  Rather, it is all rock and alternative rock pieces ranging from older Peter Gabriel to the more recent Sigur Ros, the latter choice being especially smart, given their ethereal, dark tone.  The story is about fragile, ephemeral love, and the choice of songs really conveys that tone well.  We get a sense of true love that, sadly, cannot be.  It really is a great blend of old and new, including, in addition to the ones above, R.E.M., Radiohead, Paul McCartney, Bob Dylan, and The Chemical Brothers, to name a few.  The soundtrack is a very well-thought out collection of songs that convey passion and sadness, without ever veering too far into lugubriousness.  This writer is inclined towards an actual score in a film, but this is one of the few times where "twenty or so great songs" underlying works extremely well.
On the negative side, there isn't that much.  If you are not into the tone described above, you won't like the soundtrack.  It doesn't attempt to throw something in for everybody.  Either you will really dig this collection or you will not like it at all.  Britney Spears fans need not apply.
In conclusion, though the potentially really good film falls flat, the soundtrack rocks.  If you are at all a fan of this flavor of music, it provides you seventeen tracks for your listening pleasure.  Even if you hate the movie, this is a solid collection you won't regret buying.
Missing Information?
If any information appears to be missing from this page, contact us and let us know!