'Thin Red Line' Music Editor Lee Scott
by Paul Maher, Jr.

Published July 13, 2012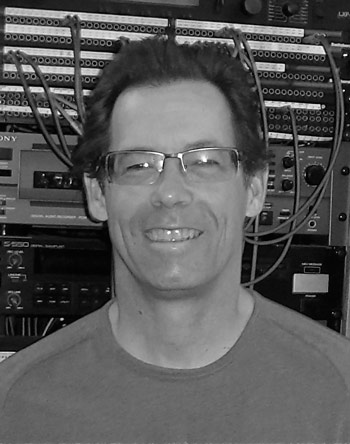 Publisher's Note: Lee Scott was the music editor for The Thin Red Line, among several other major motion pictures. In this interview, Mr. Scott gives us a fascinating peak into the process of integrating original music into a movie, and the influence and impact the music editor has on a film's final product.
The second half of this interview focuses on The Thin Red Line and developing the music for that picture, including how Lee Scott's worked with director Terrance Malick and composer Hans Zimmer.
The interview was conducted by Paul Maher, Jr. He is an author and editor whose latest book, One Big Soul; An Oral History of Terrence Malick is available at Lulu Bookstore. His blog on Terrence Malick can be read at www.terrencemalick.org.
Soundtrack.Net kindly thanks Paul for allowing us to publish the interview here. It has been lightly edited by me, mostly for clarity. I hope you enjoy reading it as much as I did.
—Sean Saulsbury, Publisher


ON MUSIC EDITING
Paul Maher: Lee, can you share how you began working as a music editor in the film music business?
Lee Scott: The funny thing about music editors is that none of us said as a child "I want to be a music editor when I grow up", nor did anyone go to college to major in music editing. Everyone has taken a different path. I started out at eleven years old studying clarinet, saxophone, flute, piano and guitar. I went to the University of Georgia where I earned a degree in composition while still studying clarinet. I came to California to attend California Institute of the Arts (CalArts) partly because I wanted to study electronic music with Morton Subotnick. After earning a master's in composition I settled in as a starving artist. I worked for a while with Frank Zappa as a music copyist, bought an electric organ and started a psychedelic-punk-funk band Toxic Pets.
I got a few minor scoring gigs. One was a Saturday morning cartoon show for NBC, "Kid'n' Play." I worked for a few years as the manager of a company that rents audio gear to studios. At that time I got more interested in post-production work because I noticed that the film studios didn't bother asking what something cost to rent—"just send it now!"—while music recording studios were a pain to deal with money-wise.
Around 1993 I was unexpectedly fired. I had recently inherited $12k from my grandmother. I went out bought ProTools version 1. It had just come out and I knew it would change the world. I put an ad in the paper "Digital audio editing $5/hour" and I never looked for work again. I worked out of my house for about a year (my rates went up), one thing led to another and I got a call from Modern Music. My first job there was assisting on the temp score for Braveheart.
I knew nothing about music editing for film but I knew and owned a ProTools rig and I had a good musical background. The industry was just changing over from analog tape to digital computer editing. I taught my mentor how to use it. A few months later I was in the union and thrown into "the deep end." I think it took me about eight years to get to the point that I was confident that I knew what I was doing.
I still work for Modern Music. We are a stable of music editors who share resources. I love telling my story to younger folk; it shows that luck is when opportunity meets preparation.


PM: What is your first duty as music editor once you are contracted to a specific film?
Lee Scott: The primary job of the music editor is to handle all the music material and to keep the music in sync to picture. The picture is constantly changing. Then it breaks down into two different types of jobs: "temp" and "final." I more often start early in the cutting process and create a "temp" [temporary] score. I place music from other films mostly, classical music, songs, what not, into the cut.
I work with the film makers: director, editor, producers (it varies from film to film who has the most say over the music) to determine what type of music (orchestral, electronic, rock, etc.) will work, where the music stops and starts, and how the music works in general.
Quite often a composer will be told to copy my temp score. As a music editor, when I see a [final, completed] film I can generally identify what music was in the temp. There's not much that is totally original. The ironic thing is that the temp music editor ends up having way more influence on the score than the composer does and often [we are] not credited!
I may spend two to six months working with the filmmaker and then the composer comes in for four to six weeks. The composer doesn't have time to experiment and try out ideas like I do, so it's good that there is a template to work from. Usually when a studio previews a film for a test audience it is with the temp score.
Working on a "final" is a little less creative. It involves coordinating with the composer and keeping his music in sync. The picture has usually changed from the time the music was written and recorded, [and we] have to figure out how to make it work.
Often a director is not happy with a cue and I have to take bits and pieces from other cues to create a workable cue. This is called "tracking." With temp scores I am working only with stereo tracks, often layers of them. But a final score mix is many tracks with the various elements split out, e.g., strings, brass, percussion, electronics. This gives me a lot more flexibility in cutting.


PM: What are some of the film projects that you have worked on?
Lee Scott: Besides The Thin Red Line, my biggest contributions were to Moulin Rouge and Drumline as a production music supervisor. For There's Something About Mary I was music editor and [I was] co-composer for Me, Myself and Irene. Drumline was my most difficult job.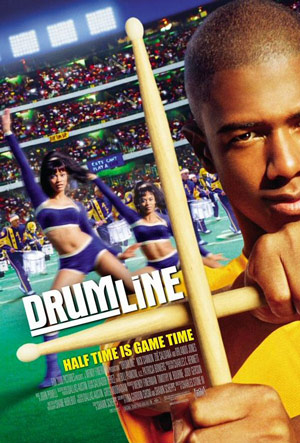 ON DRUMLINE
PM: Why was Drumline your most difficult job?
Lee Scott: I worked on it from pre-production to final mix. I traveled to Atlanta to be a part of the recording of the marching bands and drumlines and to be at the shoot to playback the music. I normally work as a music editor but for this part of the job I was given the title of production music supervisor. They did this in order to avoid paying me lots of overtime, which as a union music editor I would be due.
The movie was based on the real life experience of Dallas Austin, the hip hop producer. Dallas was also supposed to be the "music producer." My first job was to find out where and when Dallas planned to record the bands. I called his studio. The studio manager said Dallas likes to record string sections at such-and-such studio. I called the studio and asked them how big their room was. They said, "Oh, we can get forty players in here." I needed a place that would hold 100. So I called my boss at Fox Studios in L.A. and told him of the situation. He said, "well, you have to find a place." Now I was thrust into the position of being the music producer!
The climax of the movie was a marching band and drumline contest that was to be shot at the Georgia Dome. One night I was at the recording session for one of the bands that just rolled in from Louisiana. We ended up recording on a big soundstage in the same building that they had built some interior sets. At the same time the director (Charles Stone) was at the Georgia Dome rehearsing the other bands for the shoot that was to be the next day. I got a call from Charles, he asked me to cut two bars out of one the tunes the band was rehearsing to playback. Two bars seemed a little odd, so like any good music editor I cut an alternative version with 4 bars cut out just in case they needed it and sent the CD down to the dome.
The next day I joined the shoot at the Georgia Dome. This was a big deal. We had the top black marching bands from Georgia, Florida, Mississippi and Louisiana. They managed to attract 20,000 people to fill one side of the stadium. There was a stage set up in front of the audience for entertainers to keep the crowd occupied between the shooting of the bands. The football field was ringed with large monitors on stands to provide playback for the bands and to function as a PA for the entertainers on stage.
It came time to shoot the scene where the band would march around and fake playing to the music playback. When the tune reached the point where I had made the edit the band director (who had been rehearsing his band to my CD) stopped the band. Shooting stopped. The band director ran over to my station, he thought something was wrong. He put on my headphones and listened to what I had played back.
"That's right, that's right," he said as he listened. "But that's not what you just played back on the field!" I assured him that it was.
Meanwhile, since shooting had stopped, the giant PA is blasting hip-hop to keep the attention of the audience. Now you should know that the Georgia Dome is infamously loud, cavernous and echoey. We are all shouting at each other to be heard. So we roll playback again. When the tune reached the same point again the band director stopped the band again. Shooting stopped. It's like an aircraft carrier has run aground. The band director ran over to my station, put on my headphones and listened to what I had played back.
"That's right, that's right" he said as he listened. "But that's not what you just played back!" Again I assured him that it was. At this point the director, the assistant director, the director of photography, and the producer are all yelling at me. The music for the crowd has kicked up again. It's so loud it's like bombs going off. 20,000 people and a big film crew are waiting on me.
At this point I realized that they had rehearsed to the wrong version. Normally I would have been the person to play back the music, but since I was at the recording session the guy running the PA did it and he played the wrong track. I said "Ok stop, calm down. What do you want the music to do? I can fix it in a minute." I cut the piece the way they wanted, it only took a couple of minutes. I'm sure it felt like an hour to the director and the producer.


PM: Did it all work out?
Lee Scott: Everything was fine after that and I had a good war story. Generally the most stressful situation for a music editor would be on a dub stage. The clock is ticking, the stage is costing $2,000 to $3,000 per hour. When a director asks you to recut a piece of music you have to be fast, perfect and artful. When I tell other music editors my story I tell them that there is no comparing the stress on the dub stage to the stress on location. The worst thing that could happen on a dub stage would be your ProTools rig catching fire in the middle of making a recut. In that case the mixer would calmly say "We'll go work on some dialog while you get that sorted out." Contrast that to literally 20,000 people plus a big film crew waiting for you in a place so loud you can't hear yourself think.
The last day of shooting was an interior scene. It was easy and stress free. I was running playback for a party scene. I was hanging out in the "video village" where the director was watching the scene being shot on a video monitor. The scene was all set up, the camera started to roll. Charles and the others leaned in toward the monitors. Suddenly, the camera operator yelled "hold on." There was a problem with the camera. Charles leaned back and relaxed, there was a collective sigh in the room. Everyone relaxed. Then the costumer said "If there had been a problem with a costume it would have been a crisis, a disaster and an emergency, I added "Yeah, same for music."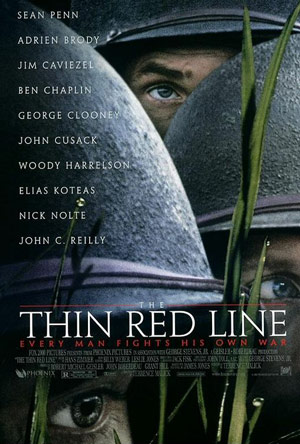 ON THE THIN RED LINE
PM: When did you first start working on The Thin Red Line?
Lee Scott: The Thin Red Line was a huge project. When I started the film in June, 1998, the three picture editors and the director Terrence Malick had already been cutting the film for about eight months and they had about thirty hours of music loaded into their Avids, which they had been cutting as temp score.


PM: How long did you work on the film?
Lee Scott: I had worked a total of seven months.


PM: Were there classical pieces opted for The Thin Red Line but not used?
Lee Scott: There weren't any classical alts for cues at the dub. But here is some of what was in the temp score that got replaced with score: Wojciech Kilar, "Exodus"; Anatoli Lyadov, "The Enchanted Lake" (just the very beginning); Arvo Part, "Fratres" and "Cantus in Memory of Benjamin Britten"; and Stravinsky, "The Firebird." "Cantus in Memory for Benjamin Britten" was for the scene where Witt [James Caviezel] gets killed, it was fantastic.


PM: What is the basic breakdown of music you had sat your disposal during post-production?
Lee Scott: There were five types of music in the film. There was a great deal of each type, each of which had to be fully explored. They were:
1. The indigenous Melanesian music. This music consisted of choirs singing 19th century American hymns which had been taught to them by missionaries. Out of about twenty tunes, three were selected.
2. Other 19th-century American hymns, which were adapted for orchestra by composer Hans Zimmer. There were about fifteen of these which were worked with as themes, two of these survived.
3. Classical source music. There was a great deal of this of which two pieces made it to the end.
4. The Cosmic Beam. This is a unique instrument that was invented and played by Francesco Lupica. About half of my work involved working with this material. Franceso was just asked to do his thing.
I never expected to get writing credit [for The Cosmic Beam cues]. It wasn't until I had to start making the cue sheet that I realized we had to put down a composer for the Beam cues. At first I was told to credit Hans Zimmer. I had to tell the producer that Hans had nothing to do with the Beam cues. I realized that I had as much to do with the creation of those cues as Francesco did. With support from Hans and Malick, the studio reluctantly assigned writing credit to me and Francesco.
5. Hans Zimmer's original score. When I started the film, Hans had already written some themes which I began cutting as temp score. There was also Japanese Taiko drumming. Originally the drum group Kodo was considered to perform for the film but in the end Hans recorded his own Taiko drummers [Johnny Mori] as well as Tibetan chants and Bowls.


PM: In Terrence Malick's The New World and The Tree of Life, we can hear similar cues to the the Cosmic Beam...
Lee Scott: For The New World, I believe they used the same Fox recordings that I used to make The Thin Red Line cues. For The Tree of Life, they used a cue titled "Troops Advance" as well as some unused recordings from the Fox scoring session.


PM: Back to The Thin Red Line. What were you doing while the movie was being mixed on the dub stage?
Lee Scott: The main direction was to find more uses for the Cosmic Beam. He asked me to create a piece for the end credits with Cosmic Beam. It didn't end up going in. It was called "Peaceful Beam." Malick was a Cosmic Beam fanatic. He would come into my room, slap the inside of his left forearm like a heroin junkie trying to get a vein to come up, and then ask for another hit of the Beam.


PM: I especially admire the edit where Zimmer's score segues with Charles Ives in "Journey to the Line." It's brilliant.
Lee Scott: That was my idea. Hans wrote a piece to copy the Ives but it didn't fly. However, that piece appears on the soundtrack album though it wasn't in the film. "Journey to the Line" was the first piece of music Hans composed that clicked for the film. Here is some super music editing trivia: In the film Magnolia there is a cue that copies the transition from Hans' score into the Ives. It must have been in their temp. They copied an edit!


PM: What about Arsenije Jovanovic's "The Prophecy from the Village of Kremnus"?
Lee Scott: I don't know where "Prophecy" came from. It was handed to me. I imagine that it was something [Malick] found.


PM: What was Klaus Badelt's role in the film?
Lee Scott: Klaus was one of Hans Zimmer's protégés. He's credited with arranging some of the old hymns that were used, and probably did more than that.


PM: Do you recall what was cut from the film and didn't make it into the finished version?
Lee Scott: I just remember that there were a lot of beautiful shots but not enough room in the film for them. There were a lot more shots of nature, animals and insects. I think there were more scenes in the ship before the soldiers land.
I remember a scene after they land and a camp and a soldier exploring the jungle, looking at insects. There was a long fifteen plus minute section of [charter Private Whit] traveling to another island.
In the middle of the film a group of soldiers try to take a hill three times. It was cut down to two attempts. Scenes with Adrien Brody kept getting cut down to where I think he has only one line in the film. I think [editor Billy Weber] and Malick wanted to cut the scene with George Clooney, but there were already trailers out with him in it and Malick didn't want to slight Clooney.


PM: Do you think Malick was satisfied with the final cut?
Lee Scott: There are some that say he wasn't, but he reconciled to what it came to because of time constraints and being contracted to three hours and under. I doubt he was satisfied. I think with an ambitious project, no director is ever totally satisfied.


PM: What is the nature of the twenty-four minute track you worked on with Francesco Lupica?
Lee Scott: It was a thirty minute performance I recorded at his warehouse space. It's not any different from the Fox recordings except that Francesco does a little singing and plays what he calls "space guitar." He used to do a whole show incorporating the Beam, drum set, guitars, vocals and the sound of thunder and rain.


PM: Are there any other collaborators on the film that we don't know about?
Lee Scott: One day Michael Jackson came to a scoring session at Fox to meet with Malick. He was offering to write a song for the film!


PM: How did your role as music editor fit into the production?
Lee Scott:There was a lot of back and forth collaboration with [composer Hans Zimmer], myself, and Malick. Hans continually supplied and reworked his synth demos which I cut in. There were many places where I moved his score to other reels or cut different cues and themes together. In several instances Hans rewrote the score to match my edits.


PM: Was it challenging work?
Lee Scott: This film was a logistical nightmare. Because of budget constraints, I worked alone until two weeks into the final dub—when I finally got an assistant (Scott Rouse) who functioned as a technical manager. Adam Smalley came in at the final dub to sit on the stage while I continued to cut. We were reworking the music constantly all the way thru the dub. I was cutting continually right up to the end.
Here is the scope of the final [and some inside-baseball stats]: I had 54 gigabytes of final music, dubbed off two ProTools simultaneously. There were 364 ProTool sessions for the final dub alone. There were five and a quarter hours of recorded score and five hours of the Cosmic Beam recordings.


PM: Would you describe your time with The Thin Red Line as unique as compared to other films you have since worked on?
Lee Scott: This film was a unique experience for me because of the incredible spirit of collaboration fostered by the director. I had a major influence on the final shape of the score. At one point the director was concerned that the composer couldn't deliver the proper score and that it was up to me to track the film with this music. In one case, Malick preferred my inelegant edit to Hans' rescore (much to my chagrin). I was working with the orchestral scores, the Cosmic Beam recordings, and about one hour of miscellaneous music for the final. We ended up with a 137 minutes in the film.


PM: How many times did you think you were working on a final cut?
Lee Scott: The film was finaled three times over.


PM: That sounds daunting.
Lee Scott: This description barely outlines the scope of the job. I think I did the work of five editors.


PM: Was director Terrence Malick pleased with your work?
Lee Scott: From the beginning, Malick considered the music more than equal to the story and other elements of the film. Terrence Malick was extremely pleased with my work. He and the senior editor, Billy Weber told me (only half-jokingly) that I had saved the film!