Movie Information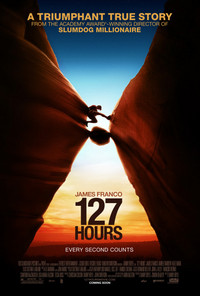 127 Hours
Released: November 5, 2010
Movie Purchasing Links
Song Credits
NEVER HEAR SURF MUSIC AGAIN


(John Pugh)
Published by Rong Music (ASCAP)
Performed by Free Blood

SCOOBY DOO, WHERE ARE YOU


(Ben Raleigh/David Mook)
Published by Mook Bros. West
administered by Warner-Tamerlane Publishing Corp. / Wise Brothers Music LLC (ASCAP)
Produced by Matt Fletcher

NOCTURNE NO.2 IN E-FLAT


(Frederic Chopin)

IF I RISE


Music by A.R. Rahman
Lyrics by Dido Armstrong and Rollo Armstrong
Published by Fox Film Music Corp. (BMI), K M Musiq Admin by Universal Music Publishing (BMI), Warner/Chappell Music Limited (PRS)
Performed by Dido & A.R. Rahman
A.R. Rahman performs courtesy of K M MUSIQ
Dido performs courtesy of Sony Music Entertainment

HEART AND SOUL


(Frank Loesser/Hoagy Carmichael)
Published by Sony/ATV Harmony (ASCAP)

SLEEPING MONKEY


(Trey Anastasio/Tom Marshall)
Published by Who Is She? Music Inc. (BMI)

LOVELY DAY


(Bill Withers/Skip Scarborough)
Published by Unichappell Music Inc (BMI)
Golden Withers Music (ASCAP)
Performed by Bill Withers
Courtesy of Sony Music Entertainment Inc.

CA PLANE POUR MOI


(Francis Jean Deprijck/Yves Maurice Lacomblez)
Published by Universal Music Publishing MGB Ltd. (SABAM/SACEM)
Performed by Plastic Bertrand
(p) 1977 AMC REcords SA-NV
Courtesy of AMC Records SA-NV,
by arrangement with The Licensing Partnership UK Ltd.

IF YOU LOVE ME (REALLY LOVE ME)


Original French Lyrics by Edith Piaf
Adaptation by Geoffrey Parsons
Music by Marguerite Monnot
Published by (c) Editions Raoul Breton (SACEM)
Performed By Esther Phillips
Courtesy of Rhino US/Warner Music UK

FESTIVAL


(Jon Thor Birgisson/Orri Pall Oyrason/Georg Holm/Kjartan Sveinsson)
Published by Universal Music Publishing Ltd. (PRS)
Performed by Sigur Ros
Courtesy of EMI Records Ltd.
News &amp Articles
Missing Information?
If any information appears to be missing from this page, contact us and let us know!