Movie Information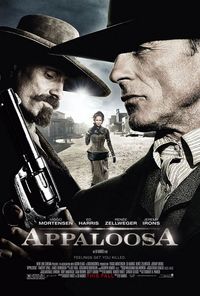 Appaloosa
Released: October 3, 2008
Movie Purchasing Links
Review: Appaloosa
by Dan Goldwasser
October 5, 2008
3.5 / 5 Stars
In the late 1880s, when the marshal of Appaloosa and his two deputies are killed, the council of the western town decides to hire two lawmen - Virgil Cole (Ed Harris) and his deputy Everett Hitch (Viggo Mortensen) - to resolve the matter. At the heart of the conflict is rancher Randall Bragg (Jeremy Irons), and Cole and Hitch are given complete authority to take down Bragg, but within the confines of the law. When a pianist Allie French (Rene Zellweger) arrives off the train, Cole is smitten with her, and a romance starts to blossom - but it turns out that her sights are set on alpha-males. After a witness to the murders comes forward, Bragg is arrested, but French is now at risk from Bragg\'s men.
Directed by Ed Harris, Appaloosa was based on the novel by crime-writer Robert B. Parker, and co-written by Harris and Robert Knott. While gritty and serious, the film has a surprising humorous streak woven throughout. The characters are instantly likable, and as the film progresses, the differences between Cole and Hitch\'s moralities become clearer. Cole is a lawman - and will do everything within the confines of the law, even if it might be unjust. But Hitch is a bit more subversive, trying to do what is right even if it might go against the very laws he is sworn to uphold. This difference between the two men is at the core of the film\'s story, and makes it enjoyable to watch unfold.
The acting overall is good, but Zellweger feels a bit forced at times, yet she still provides some enjoyable moments. The banter between Harris and Mortensen is great, and Irons does an effective job playing the bad guy (yet again). Welcome cameos by Lance Henricksen and Timothy Spall add some character flare to the picture. The biggest issue I could say I felt with the film was the pacing. It was fast paced, and never slow - which is fine, but it gave the impression that a lot of character material was left on the cutting room floor. An awkward reel change even gave me the impression that a major sequence was missing, since time jumps forward rapidly, without any indication or notice.
The music by Jeff Beal is solid, and he certainly works within the Western idiom established over 60 years ago, with plenty of nods (intentional or otherwise) to Ennio Morricone and even recent Western scores, like Marco Beltrami\'s 3:10 to Yuma. Appaloosa will not rank up there as a great Western, but it certainly satisfies the requirements to be a solid and enjoyable one.
News &amp Articles
Missing Information?
If any information appears to be missing from this page, contact us and let us know!