Movie Information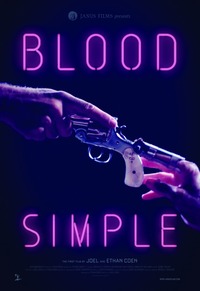 Blood Simple
Released: January 18, 1984
Credits
director

Joel Coen

director

Ethan Coen
Review: Blood Simple (Blu-ray)
by Dan Goldwasser
September 13, 2011
4 / 5 Stars
The Coen Brothers have become quite the filmmaking duo over the past twenty-five years. Ever since their first feature, Blood Simple, hit the screens in January 1985, they have slowly gained cult status, with comedies (Raising Arizona, The Hudsucker Proxy, The Big Lebowski) and dark dramas (Fargo, No Country for Old Men, Miller's Crossing) filling their repertoire, all with fascinating methods to having the stories unfold, filled with unique characters and a somewhat recognizable style of filmmaking that makes it easy to say "oh, that's a Coen Brothers film". Their first feature, the neo-noire thriller Blood Simple takes a rather basic premise and turns it on its head.  Abby (Frances McDormand) and Ray (John Getz) are having an affair.  When Abby's husband Julian (Dan Hedaya), who is also Ray's boss, suspects the infidelity, he hires private detective Loren Visser (M. Emmet Walsh) who confirms the adultery.  After a confrontation with Ray, Julian hires Visser to murder Abby and Ray - but soon things start to spiral out of hand, and not everything is what it seems.

Populated with fleshed out real-world characters, Blood Simple is less about the plot, and more about the questionable decisions that these characters make in various dire situations.  It starts a bit slow, but about halfway through when things start to go badly, the tension starts to ratchet up, leading to a rather enjoyable and thrilling climax.  Sporting straightforward camerawork by Barry Sonnenfeld (future director of Get Shorty and Men in Black), as well as the first score for composer Carter Burwell, Blood Simple is one of those films that once you see it, you can't forget it.  In 2000, the Coen Brothers tweaked the film a bit as a "director's cut" that ran a few minutes shorter, and that is the version presented on the new Blu-ray. 
Available both separately and as part of "The Coen Brothers Collection", Blood Simple in HD looks about as good as it is likely to, considering the low budget nature of their first theatrical feature film.  Black levels are good and not that murky, and colors are presented in a rather nicely vibrant manner befitting Barry Sonnenfeld's noir-inspired cinematography.  Clarity-wise, the transfer appears a little soft (but not lacking in fine detail) and has occasional print specks and dirt.  Audio is presented in a basic DTS-HD Master Audio 2.0 track, which provides a decent dynamic range without any whizz-bang effects.  Dialogue is clear and and Carter Burwell's piano-based score (and the source songs) benefits the most.
Originally released as a "Director's Cut" back in 2001, this Blu-ray arrives ten years later with the exact same limited supplements. First up is the "Introduction by Mortimer Young of Forever Young Films" (HD, 1.5-minutes), a fake introduction about the film restoration (this is a nice companion to the introduction on The Big Lebowski Blu-ray, as well).  More entertainingly is the "Commentary with Kenneth Loring of Forever Young Films". If you want to hear a joke commentary by a pretentious "film historian" who overanalyzes everything and discusses simple behind-the-scenes stories as though they were the most amazing tales ever told, then this is for you. It's actually a really enjoyable bit and doesn't get tired or old.  Finally, the "Theatrical Trailer" (HD, 1.5-minutes) caps off the supplements. 
It would have been nice if they included a few new extras, but the Coen Brothers aren't really known for doing that with their films.  So with a pretty solid transfer and entertaining faux-commentary, Blood Simple is a neo-noire that holds up and is well worth owning today. If you don't already own Fargo on Blu-ray, you might want to spring for the 4-film Collection box instead of getting the individual release.
Missing Information?
If any information appears to be missing from this page, contact us and let us know!