Movie Information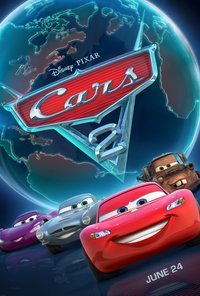 Cars 2
Released: June 24, 2011
Song Credits
"YOU MIGHT THINK"


written by ric ocasek
performed by weezer
produced by shawn Everett and weezer

"POLYRHYTHM"


written by yasutaka nakata
performed by performe
courtesy of amuse inc.

"MON COEUR FAIT VROUM (MY HEART GOES VROOM)"


music by Michael giacchino
lyrics by scott langteau and Michael giacchino
performed by benabar
produced by Michael giacchino and benabar
French adaptation by boualem lamhene
benabar appears courtesy of sony music entertainment france

"COLLISION OF WORLDS"


written and performed by brad paisley and Robbie Williams
produced by frank rogers
brad paisley appears courtesy of arista Nashville

"NOBODY'S FOOL"


written and performed by brad paisley
produced by frank rogers
brad paisley appears courtesy of arista nashville
Review: Cars 2 (Blu-ray)
by Dan Goldwasser
November 17, 2011
3 / 5 Stars
Before this year, it wasn't unreasonable to suggest that Cars was one of Pixar's worst films. That's not as bad as it might sound, though, because Cars was still better than most films - but the bar has been set so high for the animation studio, that anything short of perfection will be considered a failure. And yet, Cars was a success, pulling in nearly $500 million worldwide - certainly enough in this day-and-age to justify a sequel, and that's just what director John Lasseter did. But where Cars was a story about a smarmy racecar coming back down to earth and realizing what's important in life, Cars 2 takes a decidedly different tactic, focusing on action and adventure, only tossing in an emotional story arc seemingly as an afterthought. For a studio that prides itself on story first and foremost, it's a shame that Cars 2 doesn't quite capture the magic that we've come to expect from them.
Cars 2 continues the story of champion racecar Lightning McQueen (Owen Wilson) and his best friend, the rusty tow truck Mater (Larry the Cable Guy), who accompanies McQueen to travel the world on the first ever "World Grand Prix", the brainchild of alternative fuel mogul Miles Axelrod (Eddie Izzard), to showcase the new "Allinol" biofuel. But there is a conspiracy afoot, where the heads of the world's "lemon" cars and a criminal mastermind are determined to sabotage the race, showing that Allinol is dangerous, and driving people back to oil. (It's also no coincidence that these conspirators own the recently discovered world's largest untapped oil reserves.) Enter superspy Finn McMissile (Michael Caine), who along with the sleek Holly Shiftwell (Emily Mortimer), who are trying to figure out the conspiracy - and in an effort to get sensitive information from an American spy about the identity of the mastermind, they mistakenly believe Mater to be the American spy in deep-cover. And so, Mater finds himself pulled into the shadowy world of covert operations, with his ignorant behavior only convincing McMissile and Shiftwell that he is one of the best spies out there. But his behavior also causes a rift between him and McQueen, one that might seriously alter their friendship.
It's the friendship angle that provides the only emotional storyline in the film, and since it basically is comprised of McQueen being embarrassed by his hillbilly friend behaving inappropriately in glitzy situations, it's shallow to be sure. I can appreciate what they were trying to do, but in the end, it just falls flat - the more engaging material is the spy storyline, which allowed the animators to create fun action sequences that pay homage to classic spy films transported to the world of Cars. In the end, it's a fun and entertaining film, but sadly manages to surpass Cars as the weakest effort from the award-winning animation studio.
The pure digital presentation of Cars 2 on Blu-ray is pixel perfect. Nary a hint of compression artifacts are to be seen, and the colors are bold and beautiful. The rendering technology has increased with every Pixar film, and this one is no exception. Textures are visually realistic and yet retain an artistry that avoids getting too photorealistic; the color palette is wide and expansive, with each of the different city locations having a tactile sensation: the neon heavy nights in Tokyo, the sunny and old-world Italian Riviera, and the overcast and cloudy London. Reflections are exceptionally good this time around, and it's a gorgeous looking film from start to finish.
Equally impressive is the DTS-HD Master Audio 7.1 English track, a robust and immersive one that easily reaches - if not passes - the high bar set for modern animated films. Dialogue is clear, but a tad low in the center channel, but the sound effects and atmosphere plunge you into the center of the action. The subwoofer gets a bit of a workout primarily during the race sequences, and Michael Giacchino's spy-meets-surf guitar action score keeps things chugging along at a fast pace. Additional audio tracks include English DTS-HD Master Audio 5.1 ES, English Dolby Digital 2.0, Spanish DTS-HD High Resolution 7.1, Spanish Dolby Digital 5.1 EX, Mexican Spanish Dolby Digital 5.1 EX, and an English Descriptive Video Service 2.0 track. Whew!
When it comes to the extras on the 2D Blu-ray release of Cars 2, there is sadly much left to be desired. There is an exceptional commentary track by director John Lasseter and co-director Brad Lewis in which they go into great detail about the development of the film, as well as the new technical challenges they faced when working on this one. (There's one shot that took over 100 hours per frame to render - insane!) Lasseter is particularly engaging, talking about the personal things that he puts into each film he works on, and his description of the little touches that he puts in there for his wife Nancy is quite touching.
Two animated shorts are also included: "Hawaiian Vacation" (HD, 6-minutes), the Toy Story short that was shown in theaters before the feature, in which Woody, Buzz and the gang try to give Barbie and Ken a perfect holiday getaway, and "Air Mater" (HD, 5.5-minutes), a cute short involving Mater telling a tall tale about the time he learned to fly in an air show. That's all they have - nothing behind the scenes, or making-of material exists here. Apparently, like Pirates of the Caribbean: On Stranger Tides, extensive extras are relegated to the 3D Blu-ray release.
Cars 2 is entertaining and fun, filled with some great action sequences, but lacking the character growth that the first film had. As such, it never dips below the shallow end of the pool. It is gorgeous to look at and listen to, and if you're a Pixar fan, you might consider getting the 3D version of the film to get all the extras; otherwise this 2D release might leave you feeling a little flat.
News &amp Articles
Missing Information?
If any information appears to be missing from this page, contact us and let us know!