Movie Information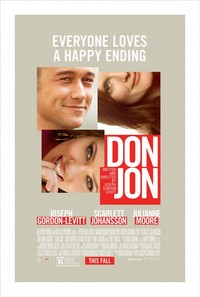 Don Jon
Released: September 27, 2013
Credits
director

Joseph Gordon-Levitt
Movie Purchasing Links
Song Credits
"Bout That Life"


Written by DeYon Dobson, Lawrence Young and Antoine Vick
Performed by Toine feat. L. Young
Courtesy of Yon Ti Entertainment

"The Mighty Don"


Written by Ryan Lott and Nathan Johnson
Performed by The Cinematic Underground and Kampaign
Courtesy of Choplogic Music

"Baby Break It Down"


Written by DeYon Dobson, Lawrence Young and Alfred Gipson
Performed by Alpha Red
Courtesy of Yon Ti Entertainment

"Hit the Floor B"


Written by Andrew David Lee, Loopmasters and UtkuS
Courtesy of APM Music

"Pre Meditation"


Written by Mr De La Main
Courtesy of APM Music

"Some Like It Hot"


Written by Matt Malneck & Isidore Diamond
Performed by MoZella
Courtesy of EMI Entertainment World Inc., o/b/o Mozella & Rob Kleiner

"Bang Up"


Written and Performed by Daniel Lenz
Courtesy of Daniel Lenz Productions LLC
Written and Performed by Daniel Lenz
Courtesy of Daniel Lenz Productions LLC

"The Party Starts Right Now"


Written By Dan Book, Alexei Misoul, Scott Stallone and Steven Stern
Performed by U4L Featuring Beth Enloe
Courtesy of Selectracks

"BB Take A Picture"


Written by DeYon Dobson, Alfred Gipson, Richie Pena and Sigfrido Diaz
Performed by Alpha Red
Courtesy of Yon Ti Entertainment

"Makin It Hot"


Performed by Non-Stop Producer Series
Courtesy of Warner/Chappell Production Music

"Don Jon's Radio Ad 1"


Written By Jeffrey Sudakin/ASCAP
Performed by JeffPeff
Courtesy of Pefflabs, Inc.

"100 Dollar Bills"


Written by Beat Mekanic, Cadence Blaze, and Deonata Moore
Performed by Cee Tha Rebel
Courtesy of 5 Alarm Music

"Hey Shorty"


Written by Cadence Blaze and Allen Maldonado
Performed by DawOne
Courtesy of 5 Alarm Music

"Good Morning World"


Written by James Kaleth
Courtesy of 5 Alarm Music

"Queen Desire"


Written by Raymond Weil
Courtesy of 5 Alarm Music

--end left column 1, start right column 2--

"BB By Two Nyte"


Written by Sean Thomas, Lawrence Neal Young III and Myles Annie Plancq
Performed by Kopelli feat. Myisa
Courtesy of PROcreation

"Money Talks"


Written by Amon Flanagan and Christopher Carpenter
Performed by Seefor Yourself
Courtesy of BEAT MOBB ENTERTAINMENT GROUP
By special arrangement with Paragon Film Music

"Give Yourself Up"


Written and Performed by Kathy Sledge & Adam Barta
Courtesy of Global Groove Entertainment
By arrangement with Ford Music Services

"Sport News 2"


Written by Ian Anderson
Courtesy of APM Music

"Horse Show"


Written by Gerhard Trede
Courtesy of APM Music

"PMG Clown Town"


Written and Performed by David Robert Phillips
Courtesy of David Robert Phillips

"Addiction"


Written and Performed by Malcolm Kirby Jr.
Courtesy of 456 Music Inc

"The Grind"


Written by Adam Longlands
Performed by Hoezart and Brekspeare
Courtesy of Cutting Edge Group (Holdings) Ltd.

"Squasher"


Written and Performed by Danny Saber
Courtesy of Scepter Music Inc.

"Good Vibrations"


Written by Amir Q. Shakir, Mark Wahlberg, Donald Wahlberg and Dan Hartman
Performed by Marky Mark and The Funky Bunch & Loleatta Holloway
Courtesy of lnterscope Records
Under license from Universal Music Enterprises

"Don Jon's Radio Ad 2"


Written By Jeffrey Sudakin/ASCAP
Performed by JeffPeff
Courtesy of Pefflabs, Inc.

"Don Jon's Radio Ad 3"


Written By Jeffrey Sudakin/ASCAP
Performed by JeffPeff
Courtesy of Pefflabs, Inc.

"Thong Song"


Performed by Sisqo
Courtesy of The Island Def Jam Music Group
Under license from Universal Music Enterprises

"Bass Junkie"


Written by Derek Yopp, Jujuan Gailey and Andrew John Kim
Performed by EX-LR
Courtesy of 5 Alarm Music

"Lazy Bones"


Written by Che Kropp
Courtesy of 5 Alarm Music

"Would You Do the Same for Me"


Written by Lee Baker and Laura Vane
Courtesy of 5 Alarm Music
Review: Don Jon
by Sean Saulsbury
March 3, 2014
3.5 / 5 Stars
Actor Joseph Gordon-Levitt makes his debut as a writer and director with Don Jon. On the surface, the movie appears to be a superficial comedy about sex and, perhaps, just an excuse for him to make out with Scarlett Johansson on the silver screen. But, surprisingly, there is actually substance behind it all.
Gordon-Levitt also stars as Jon, a pretty boy bachelor in New Jersey. He is the envy of his friends, scoring the hottest girls at the trendiest clubs. He also loves his porn. Pornography, he argues in narrative voiceover throughout the film, is better than sex.
Several comedic scenes illustrate this view, and as he describes sex acts he would like to do, they are then contrasted with the sex acts that he actually gets his conquests to participate in—which are far less glamorous than what is illustrated in his favorite pornos. Yes, Jon can always take solace in his porn. And he does. A lot.
If you're turned off by this presentation of today's overly sexuality youth, don't flip the channel just yet. Because behind it all is a young man who is truly seeking a connection, for which pornography serves as a substitute. He doesn't even know how to attain that kind of connection, save for a trip to his laptop computer.
That is, until his girlfriend "pussy-whips" him (as the saying goes) into taking classes at the local junior college. There he meets and older student played by Julianne Moore who challenges many of his ideas about sex. After catching him watching porn in class, she confronts Jon and challenges him to try maturate without watching porn.
When he is unable to do so successfully, she has his full attention and in turn learns that sex is more about connecting with another human being than it is about any particular position or specific sex acts (although, of course, you can't have one without the other).
The final act of love doesn't totally work and leaves the audience wanting a more authentic connection than we get. None-the-less, the message rings true and works especially well as targeted to today's youth. But for Don Jon, it is an important step and we can root for his transformation as a man.
The film has a feel of a clean Judd Apatow movie. It is filled with comedy and a strong, heart-felt message, sans the overly grotesque moments that Apatow often subjects us to. Tony Danza as Don's father works well in several blunt and hilarious scenes.
Gordon-Levitt shows promise in the director's chair and has a good sense of character and story. The film is definitely worth watching for that reason alone, so long as you find the subject matter palatable.
Missing Information?
If any information appears to be missing from this page, contact us and let us know!